Vancouver Tap News – Dec 17, 2010
Posted by Dave Shea on Friday, December 17th, 2010
Tags for this Article: ale, alibiroom, beer, camra, cask, tapnews, taps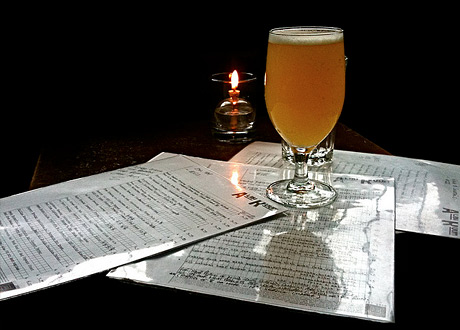 Here's what's on tap in Vancouver this weekend. As always, first up is a tour of the current beer list at the Alibi Room.
Le Nez Rouge Belgian Tripel (Vancouver) – Yaletown Brewing's brewmaster Iain Hill makes 'em big and makes 'em well. I've gained a whole new appreciation for his seasonals over the past year, and this one is no exception. A nice warming 9% tripel is the perfect way to keep yourself warm during a cool December night, especially when paired with a cheese plate.
Driftwood Blackstone Porter (Victoria, cask only) – this seasonal porter is back for another year, get it while you can. Perfectly roasted, nice understated bitterness, and plenty of sweeter chocolate notes to keep you ordering more.
Hopworks Abominable Winter Ale (Portland) – normally winter ales are higher test than your regular sipper, and typically you'll find them to be on the sweeter/spicier side. Hopworks bucks the trend with this unusually hoppy red ale weighing in at 7.3%. Bitter but not overly so, hop heads will find plenty to love about this one.
Brooklyn Brewing 2009 Black Chocolate Stout (Brooklyn) – if this is still on the menu by the time you swing by, don't hesitate. Order it immediately. Big chocolate nose, and the extra year of age has mellowed out the strong 10% alcohol to more of a fruity, winey character, with just a touch of acetic vinegar.
If you're spotting a trend of higher alcohol levels here, that's because the menu is currently stacked with bigger winter-friendly beers. You'll still find plenty of lighter favourites like Driftwood Farmhand, Red Racer ESB, Russell Black Death Porter, Crannog's Back Hand of God, and a couple of new ones I haven't had a chance to review yet: Conrad's (of Steamworks) Roggenweizen, Red Truck Dunkelweizen, and Tree Brewing's Winter Ale.
And rumour has it the Alibi's magical 200th tap rotation celebration is happening just a few days before Christmas. But you didn't hear that from me.
Elsewhere around town:
London Pub has a Central City cask going on tonight (Friday) at 5pm. No word on what's inside, but Central City never disappoints.
The Whip is also pouring a Central City cask on Sunday at 4pm. Red Racer IPA with extra hops in the cask.
On Monday St. Augustine's is tapping a cask of Driftwood's Blackstone Porter.
Railway Club has a cask of R&B's Auld Nick winter ale on Tuesday.
Also on Tuesday, Central Bistro is doing a Red Truck Brewmaster's Dinner.
And if you're still in a festive drinking mood on Wednesday the 22nd, head down to Guilt & Co. in Gastown for a 6:30 tapping of Russell Brewing's award-winning Wee Angry Scotch Ale. If you can't make it till later, they'll crack open a cask of Black Death Porter from Russell at 7:30.
New at the bottle shops:
This week it seems like everyone got their shipment of Driftwood's Old Cellar Dweller 2010 Barleywine, which marks the third year of this one if you're working on a vertical like I am. Dogfish Head's Chicory Stout is now available at most for the first time as well.
Brewery Creek – Dogfish Head Pangaea, ingredients from all 7 (!) continents and Navigator Doppelbock, Lightouse's second entry in their continuing brewmaster series.
Firefly – Too many to call out individually. I'm just copying and pasting here: Anchor Christmas Ale. Ballast Point Calico Amber Ale. Granville Island Imperial Chocolate Stout. Lost Coast Indica IPA. Nogne O #100, Imperial Stout, IPA, Pale Ale, Porter, and Winter. Phillips Instigator Doppelbock and Trainwreck Barley Wine. Pike IPA. Pyramid Thunderhead IPA. Salt Spring Island Fireside Winter Ale. Restocks: Brooklyn Brewing Black Chocolate Stout. Green Flash Imperial IPA, Le Freak, Trippel. Rochefort 8, 10.
Viti – not new to town, but new to Viti are five different choices from Lagunitas Brewing out of California. No word on what they are, but I'm willing to bet Hop Stoopid is included in that list, and that's the one to buy.
Darby's Liquor Store – so far the only place in town that I'm aware of carrying Dogfish Head's Burton Baton, a wood-aged blend of English Old Ale and Imperial IPA. Quite a treat, and the first time I've seen it on sale in Canada.
(Special thanks to CAMRA Vancouver, without whom these would be much shorter updates.)