Noghl – A Persian Wedding Tradition
Posted by Mark Busse on Thursday, February 5th, 2009
Tags for this Article: almonds, dessert, Persian, tradition, wedding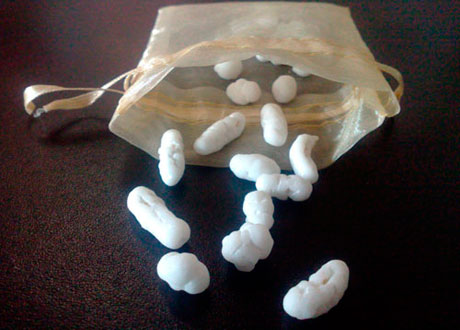 Near the conclusion of the wonderful wedding I was best man at in Mexico recently, the parents of the bride gave Andrea and I a lovely gift. Inside we discovered an adorable mini Persian rug, a purse-sized woman's mirror, gold coins, and a small satchel of what looked large, lumpy grains of white rice.
Turns out they were Noghl, or sugar-coated almonds, a traditional Persian party favour common at Iranian weddings, which is where they are originally from. Made by coating roasted almonds in a mixture of boiled sugar, water, and rose water, they are delicious.
I've no idea where one can get traditional Persian treats like Noghl in Vancouver, does anyone have any suggestions?