Best of both worlds
Posted by Matt SamyciaWood on Monday, March 16th, 2009
Tags for this Article: brochuto, rolled vegetables, salsa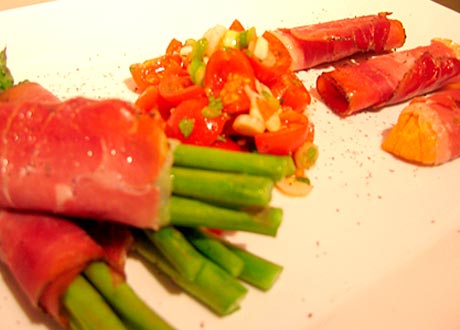 Growing up in the UK I ate a lot of meat. In fact each meal is planned around the choice of meat for that meal. Since living in Canada for the last ten years I have become less dependent on needing to have meat with every meal and eating a lot more veggies (I even eat vegetarian meals from time to time – CRAZY I know – shhhh, don't tell the English folks).
That being said, the other night I had a craving for meat (ten slices to be specific). I also was not in the mood to cook a large meal – but could not quite bring myself to just eating ten slices of meat (the Canadian voice inside my head was yelling "you should really eat some vegetables").
The answer, veggies rolled in meat + homemade salsa – it was a stroke of genius.
I precooked the yam and rolled it in prosciutto. I left the asparagus uncooked and took four spears of asparagus and wrapped them in glorious meat too. Popped them under the grill for a few minutes (don't leave them in too long as the meat will toughen).
The salsa was cherry tomatoes quartered, sliced garlic, sliced spring onion, olive oil, lots of sea salt and black pepper – as far as amounts, mix and match to suit your taste.