A Tale of Two Tacos
Posted by Matt SamyciaWood on Sunday, August 9th, 2009
Tags for this Article: BBQ pork, English Mustard, mash potato, taco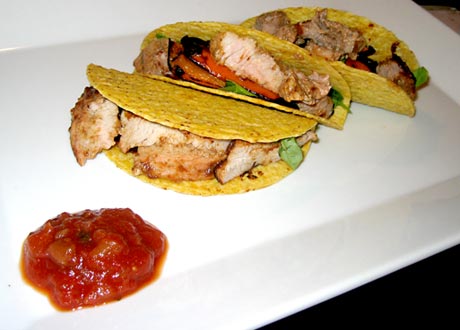 Night one: I had been marinating my large (2" thick) pork chop in a marinade I had made earlier. The marinade was made from Salsa, ketchup, balsamic vinegar, soy sauce, Chinese 5 spice and the very hot Rick's Hot Sauce.
I sliced partly through the chop on both sides to allow the heat to cook thoroughly through the whole piece of meat. This enabled the whole chop to be nice and tender, as well as it was late in the evening and I wanted it to cook quickly. It was my stomach that made me cook quickly, honestly.
I cooked the pork over hickory wood in the BBQ. Heated the taco shells, stuffed them with lettuce and Thai basil from my garden, added BBQ orange pepper, and finished with the sliced BBQ pork.
I normally hate eating with my hands and getting messy (give me a knife and fork any day). But on this occasion it was good, the juice of the hickory flavoured pork running down my chin and all over my hands. It was one of those times where licking the plate clean afterwards was necessary to savour every last bit.
Night two: And then there was the next night. I was cooking for my daughter and I, she is two years old and was on the mend after suffering with a tummy parasite (from a non food related incident) for the previous three weeks. As her appetite was starting to get better, I thought I would try her with a little meat. We had some sliced ham, that I cut finely into slices. Boiled some potatoes and mashed them with margarine and a little milk.
Then came the best bit. After mixing the meat with the mashed potatoes I mushed it into taco shells. It was great. Mashed potato taco shells (I am sure there is a Mexican cussing me right now). For my potatoes, I also added a healthy tablespoon of Coleman's English mustard (extra yum). My daughter had never eaten taco shells before. She really enjoyed the mash but sucked eagerly on the taco shells wondering what hell they were and what she should do with them – so cute.