How is asparagus grown?
Posted by Mark Busse on Tuesday, May 22nd, 2007
Tags for this Article: asparagus, Vegetables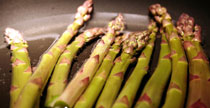 The other evening we were enjoying some delicious asparagus with dinner and realized that we had no idea how asparagus was grown? Does it hang on a bush? Grow in the ground like a potato? Nope. So we looked it up online and, not surprisingly, asparagus has its own website!
Apparently it is a member of the Lily family, with spears growing from as crown planted a foot deep in sandy soil during spring and early summer, and the spears can grow 10″ in a 24-hour period! And oddly, after harvesting is done the spears grow into ferns, which produce red berries and the food and nutrients necessary for a healthy and productive crop the next season.
The site even offers some opinions about why your urine smells so funky after eating asparagus. [photo by Maria]