New Coffee Routine
Posted by Andrea Busse on Wednesday, April 1st, 2009
Tags for this Article: coffee, Commercial-Drive, Elysian, French press, Frieling, grinder, vancouver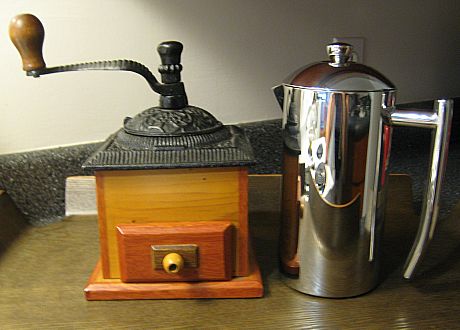 Sometimes a little change can make things exciting again!
Mark and I used to go to one of the many great coffee shops along Commercial Drive in East Vancouver every morning for our daily caffeine fix. But, the Americanos were starting to lose their appeal, and we found that even if we went to the same place, the coffee would vary depending on who was making it that day. So, in typical 'control freak' manner, Mark and I decided to take matters into our own hands and bring the coffee making back into our own kitchen.
We had a variety of coffee making devices and grinders in our house, but none of them were just right. The electric coffee maker made its way to Value Village a long time ago. The glass Bodum was nice and easy, but by the time we would actually go to drink the coffee, it was always just luke warm (plus, Mark broke it!). The stove top maker was good, but fussy. Plus, the 'fancy' grinder that I had bought last year didn't even grind the beans fine enough for espresso. And, who wants to subject themselves to that kind of noise first thing in the morning? (I need my coffee for a reason. It's because I'm cranky and don't like mornings. I don't appreciate the high pitched whine of the grinder!)
Off Mark and I went to see Robert at Elysian Coffee on Broadway and Ash. Mark likes shiny things, so we were sold even before Rob could place the stainless steel Frieling French press in front of us. But besides the good looks and sleek design, it is double-walled, so it is insulated. No more luke warm coffee! Then, there was the matter of the grinder. Rob showed us a hand grinder. As it turns out, we already have one of these at home sitting proudly on a shelf as beautiful decoration. My dad actually hand made it for me years ago. Why had I never tried to actually use it?
So now we have an exciting new routine in the mornings! As I'm getting ready to go to work, I can faintly hear Mark grinding away in the kitchen, pouring water into the French press, and setting the timer for 4 minutes. Hot, delicious, and consistent coffee every morning!
What is your coffee routine? (Dave Shea – I'm waiting for you to post a comment!)