Takumi Japanese Restaurant
Posted by Lisa Nakamura on Sunday, April 5th, 2009
Tags for this Article: Japanese-food, restaurant, review, sushi, West Vancouver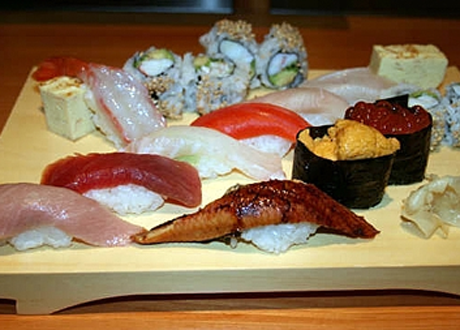 Takumi Japanese restaurant is a great little Japanese restaurant in West Vancouver. It's in a bit of an isolated area near Thunderbird Marina on Marine Drive. It wasn't very busy when we went but I think that it will get busier as the weather gets warmer and you can take advantage of the patio overlooking the marina.
They have a pretty good selection of cooked items, robata, sushi and sashimi. We ordered a good selection of dishes including Chawan Mushi which I was quite happy about since many places don't serve this dish. It's a savory Japanese custard steamed in a little tea cup with shiitake mushrooms, ginkgo nuts, kamaboko and bits of seafood. We also ordered the Gindara Saikyo (black cod with miso), beef tataki, Kobe beef sukiyaki served properly with the raw egg to dip the meat in, and assortment of sushi. It was all delicious and not as pricey as I thought it would be.
Another thing I really liked about this place was that it was so clean and nice inside. It had a bit of a log cabin feel but modern at the same time.
Takumi Japanese Restaurant is located in Kitsilano at 5775 Marine Dr.,
West Vancouver, BC; (604)-921-9701, www.takumisushi.com