Gluten free birthday delight
Posted by Matt SamyciaWood on Thursday, April 9th, 2009
Tags for this Article: birthday, dessert, gluten free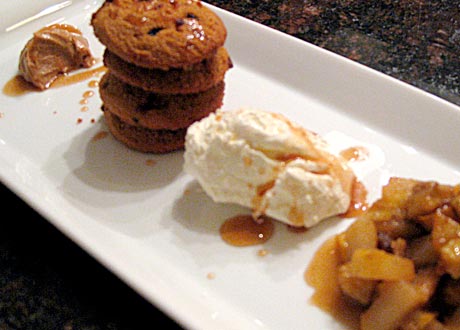 The other day was my wife's birthday. As she only eats gluten free food and I did not have a lot of time to prepare dinner, baking a gluten free cake was out of the question. Instead I created something simple but still looked a little fancy and fit for the birthday gal.
I pan fried diced pear in butter, and then added diced banana and raisins.
A tower of gluten free cookies – these were store bought and were warmed in the oven.
A large dollop of almond butter as well as ice cream.
The plate was finished with a drizzling of honey, Grand Marnier and cinnamon.
We used the cookies to scoop up the banana and pear, with ice cream on top, it was good.
On my wife's dish I also added two candles to make it more like a birthday cake (who doesn't like blowing out candles on their birthday).
Next time I make this dish I will make the cookies, they will be a lot better. We have still yet to find a delicious gluten free store bought cookie (they are often too dry).