Damn You Chex And Your Delicious Gluten-Free Yumminess
Posted by Mark Busse on Monday, June 13th, 2011
Tags for this Article: Chex, gluten, Muddy Buddies, recipe, snacks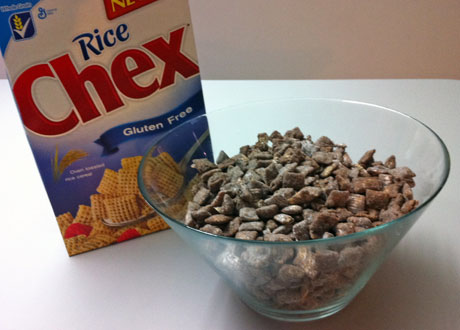 I hate feeling obligated or manipulated. Who doesn't? And I refuse to write about anything on Foodists unless I genuinely enjoyed it or found it to be an interesting story or experience. Period. So when a packaged arrived from General Mills with what looked like a gift basket full of samples and marketing bumf for Chex cereal in it, I dismissed it like the food snob I am and set the package aside.
Like anyone really, I also enjoy exploring and leaving myself open to surprise and delight, so after a few days of ignoring this shiny plastic wrapped "junk", I finally decided to open it and see what's what. Inside I found a couple of boxes of Chex's new gluten-free cereal along with some standard ingredients found in most kitchens; chocolate chips, peanut butter, icing sugar, vanilla, etc.
A cute little recipe booklet was included with instructions how to make something unfortunately named "Chex Muddy Buddies". Oh paleeze! I mean really, "muddy buddies"?! More sugar-loaded crapola to feed chubby kids to keep them quiet in the car? But it said it would take less than 15 minutes to prepare, and it was a hockey playoff night after all, so I gave them a try.
Oh my. These are good. Really good. Like happy zone good. How could they not be? They're little rice clouds of crunchy goodness soaked in butter, melted chocolate and peanut butter and dusted with icing sugar! They reminded me of quick sugary snacks I used to love to make at home as a youngster. I do find it rather ironic that something this decadent is "gluten free", but whatever! People with gluten issues need sugary snacks too! So let yourself be manipulated by the marketing machine that is General Foods and enjoy the delicious, gluten-free yumminess. If you don't love these, there's something wrong with you.
INGREDIENTS:
9 cups (2.25 L) Rice Chex cereal
1 cup (250 mL) semi-sweet chocolate chips
1/2 cup (125 mL) peanut butter
1/4 cup (50 mL) butter or margarine
1 tsp (5 mL) vanilla
1 1/2 cups (375 mL) icing sugar
PREPARATION INSTRUCTIONS:
1. Into large bowl, measure cereal; set aside.
2. In 1-quart (1 L) microwavable bowl, microwave chocolate chips, peanut butter and butter uncovered on high 1 minute; stir. Microwave about 30 seconds longer or until mixture can be stirred smooth. Stir in vanilla. Pour mixture over cereal, stirring until evenly coated. Pour into 8-quart (8 L) resealable food-storage plastic bag.
3. Add icing sugar. Seal bag; shake until well coated. Spread on waxed paper to cool. Store in airtight container in refrigerator.
What's your favourite quick snack food at home? Got any killer recipes we should know about?