First Nation's Fare
Posted by Ben Garfinkel on Thursday, April 16th, 2009
Tags for this Article: bbq salmon, Camus cook book, First Nations Cuisine, First Nations recipes, Lilliget Feasthouse, Slow Food, West Coast First Nations Food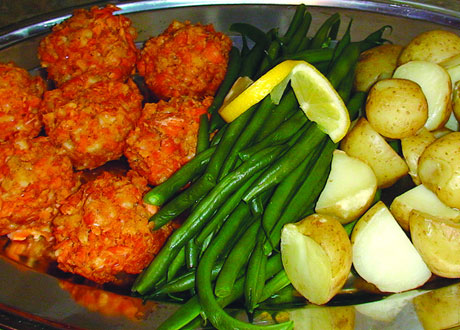 I travel with my stomach. I just love experiencing other cultures through their food. Living in Vancouver I'm pretty lucky to be able to travel around the world without going more than a couple kilometers. Living on the west coast, our geographic heritage is with the First Nations communities and peoples, yet there is little in the way of their traditional food and cooking in evidence here short of cedar planked salmon and a few places that use their version of bannock bread underneath the poached eggs on their bennies (note, I'm talking about original First Nations food, unfettered and unfused from what is referred to as West Coast cuisine). In fact, it seems Asian food has taken the throne as Vancouver's primary ethnic calling, but aside from strong Asian demographic figures, why? The use of our fresh seafood and game is prevalent on menus, and perhaps we've forgotten the traditions and techniques that this cuisine is based on? Like many other aspects of First Nation's culture, it's just been assimilated into our modern world. Yet, authentic First Nations cuisine does exist, and is unique.
I'm reminded of a school field trip to the Vancouver Museum when I was in grade school. I don't recall how old I was, but I'm going to guess I was about seven or eight. The visit culminated in a demonstration of the traditional cooking technique using hot stones in a bentwood cedar box to steam salmon. I'd never tried anything like it before, and the memory of this only recently resurfaced, but clearly must have imprinted deep into the early code for my gradual programming as a Foodist.
Unfortunately, my exposure to more First Nations cuisine was next to nil. Sure, we ate lots of salmon, smoked, planked, etc., but I don't count this as true ethnic eating. Smoked oolican: good luck finding this anywhere (I found some at one of the fish merchants on Granville Island several years ago, but haven't seen it since. When I asked after it, I was told to keep checking around the time of Stanley Cup playoffs). The preparations are simple. Simple ingredients, fresh, local and unadorned for the most part, hence the importance of quality ingredients. You don't need to slather a sauce on fresh, local, organic produce for it to be good.
Unfortunately, after years of good intentions, my one trip to Lilliget Feast House in Vancouver's West End was somewhat of a disappointment. Maybe it was an off night, but I never got a chance to give them a second chance and they are now closed. It always pained me that tourists flocked to Salmon House on the Hill and The Fish House in Stanley Park when what they really should have done was delve into the real culinary and cultural origins of British Columbia. And aside from the fact that it was the only place in town to experience it, the interior of their basement location was designed by none other than west coast architectural legacy, Arthur Erickson.
Over the last few years there have been rumours and attempts by others to open First Nations restaurants, but it seems that we may be better served by seeking it out at the source by participating in the First Nations gatherings and other events sometimes available to the public. Or, finding a decent cookbook and doing it yourself (assuming your strata council will allow you to build an open fire in your backyard patio).
The aforementioned Liliget Feasthouse's contribution in this matter is a cookbook called Where People Feast-An Indigenous Peoples Cookbook, and another recent offering, Camus: West Coast Cooking Nuu-chah-nulth Style
In the latter, First Nations elders and families from the west coast of Vancouver Island and northern Washington share the wisdom and riches of their traditional territories. Marrying First Nations cuisine with cooking tips, cultural observations, and oral history anecdotes, Camus features traditional and wild ingredients for a mouthwatering read. Here's a sample recipe for bbq-upsidedown-salmon.
Instructions about the traditional preparation of Vancouver Island's wild foods, including fish, kelp, berries, and fowl are interspersed with recipes for the modern kitchen. Bringing together the wisdom of the elders with the culinary artistry of BC's unique tastes, Camus explores the art of how to butterfly a salmon, how to can fish, as well as delectable recipes for marinated seaweed, steam pit cooking, Nuu-chah-nulth upskwee, and shellfish.
It seems with all the recent attention on the Slow Food movement, we're only just rediscovering the original wisdom of the first inhabitants of British Columbia. Hopefully, we'll see some traction around some of their preparations. And with the farmer's markets just about to go into full swing, worth delving into for inspiration.
If you know of any venues or events one can experience real First Nations cuisine, please let us know.