Mosaic, Bali – Duck
Posted by Doc on Friday, April 17th, 2009
Tags for this Article: Bali, duck, french, Mosaic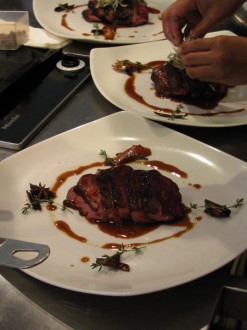 Just a few weeks ago I had the pleasure of hosting a dinner for my good friends Mark and Andrea. Not only are they crazy fellow foodists but they're also damned crazy for bringing over a crazy expensive wine that they should have saved for say, one of their anniversaries or at least something more nostalgic than dinner over at my place. But alas, Mark and Andrea are beautiful people and I love them both…. that's why I decided to share with them one of my favourite dishes when I had them over. It was a dish I learned at the Mozaic Workshop in Bali (check out my previous two entrees on Mozaic, one on the Workshop, the other on an amazing salmon dish). It's duck done Bali-French. Full of umami, and sweet zest, this duck dish will be a star attraction the next time you host a dinner… but be sure to only make it with the best of friends. 
Here she be – as written and prepared by Chef Chris Salans:
Seared Duck Breast with Asian Cabbage and Shaved Apple Salad, Star Anise Pan Juice
Duck Breast (2pc)
Salt & Pepper (to taste)
Orange Peel
Cinnamon Stick (1pc) 
Fresh Green Apple (1pc)
Roasted Walnuts (5gr)
Chopped Parsley (5gr)
Walnut Oil (5gr)
Lemon Juice (5gr)
Salt (pinch)
Sliced Cabbage (100gr)
Sliced Onion (1/2pcs)
Ginger & Garlic (1tsp)
Coriander Seed (1tsp)
Orange Zest (1pc)
Mirin (1tbs)
Soy (1tbs)
Lombok Chilli (1pc)
Sesame Oil
Duck Fat (pan juices)
Star Anise (2pcs)
Orange Peel (2pc)
Beef Stock (200ml)
Pinot Noir (50ml)
Trim the duck breast and score the skin to help render the fat when cooking. Towards the end of the cooking add star anise, orange and cinnamon stick to allow to sit in the pan so the flavours come together.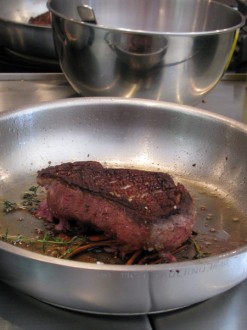 Next begin to toast the coriander seed in a deep pan then crush slightly to release the flavor, this will be used to season our cabbage while cooking.
Heat up the pan and add the sesame oil, add onion, chilli, garlic and ginger and sauté until nearly soft. Add cabbage and cook for a further 2-3 minutes. When cabbage becomes tender add soy, mirin and ginger juice. Correct the seasoning and set aside.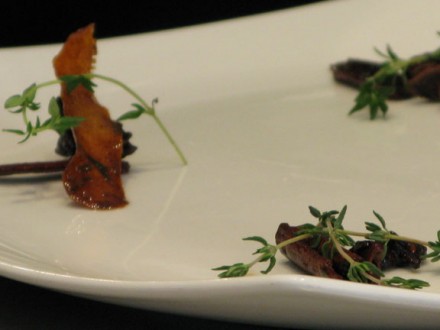 Two minutes before serving, julienne the apple with a mandoline, add crushed walnuts, chopped parsley, walnut oil and other ingredients to form an apple salad. Season to taste with salt.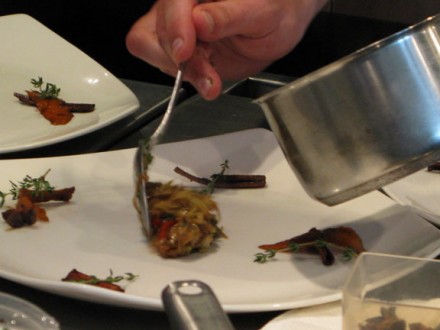 Take the pan juices from the cooking of the duck and add the pinot noir, reduce by half and add the beef stock. Correct the seasoning and check consistency. This may require a drop of red wine vinegar to give the sauce a light sharpness.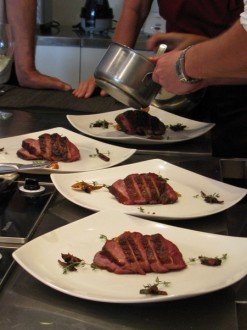 Enjoy the joy.