'Eat Me' The food and philosophy of Kenny Shopsin
Posted by Colin Kohler on Thursday, May 7th, 2009
Tags for this Article: American Food, cookbook, Eat Me, Kenny Shopsin, New York, recipes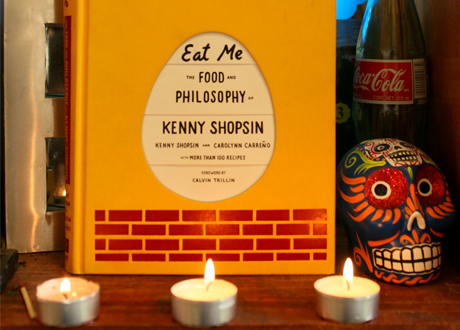 A librarian friend of mine turned me on to this book. The alternate title could have easily been Zen And The Art Of Owning A Small Restaurant, for its unconventional culinary philosophy and total lack of ego.  Half cookbook, half memoir, 'Eat Me' is the autobiographical story of Kenny Shopsin's family-corner-store-turned-restaurant.
I was in awe of Kenny's methods, in part because they're so ballsy, and because they so closely resemble what my friends and I would do if we owned a restaurant, café, or pub.  His aim is to create a genuine event, and an environment conducive to interaction. Among the written and unwritten rules at Shopsins are:
No tables larger than four tops. And no, you can't add another seat for your party of five because it would change the dynamic of the group and interaction is a vital part of the whole experience of eating.
For that same reason, no cell phones – ever.
No copycat ordering. Thinking for oneself is integral.
No substituting anything.
Smoking is OK unless you are sitting near (list of names of regulars). (Really).
Some people have compared Kenny Shopsin to Seinfeld's 'Soup Nazi' because of his strict adherence to these rules, but unlike the Soup Nazi they come from an honest desire to cultivate the right atmosphere. Kenny writes,
"I have contact with every customer. Usually I have a conversation with them, but at the very least I cook their food; I touch every plate that goes out at Shopsin's. There is an inherent value in this that is intangible and priceless. It has to do with traditional American values and with humanity. Over the years I've found it's something people really crave."
This book is a total goldmine of philosophy, technique, and New York history – not to mention recipes.  Shopsin's has just under a thousand items on its six-page menu that are all cooked to order.  An undertaking that most cooks I know wouldn't burden themselves with in a million years.  But Kenny Shopsin likes it that way.  He says it helps him to avoid getting bored.
"I don't even have recipes. My regular customers know that if they order the same thing they got last week, there is a good chance I will make it so differently that they won't even recognize it. It's just that everything I cook, every time I cook is an event in and of itself. It's like when you have sex; you approach it each time to do the best you possibly can, as if it were the only time."
Many of us know this is blatantly contrary to established culinary method, but when no one's around, isn't that how we cook for ourselves?
Another thing worth mentioning is the ultra sharp design of the book itself. The school bus-yellow front cover displays an egg shaped pop-up book pull tab that says clearly DO NOT PULL. I like this book already. Throughout you find playful but bare-bones photographs that are in stark contrast to the airbrushed, depth-of-field controlled shots in magazines like Saveur or Bon Appétit.  The story of the restaurant is seamlessly woven in with the recipes, and peppered with inserts about mastering the delicate art of eggs, griddle techniques, burger fundamentals, and prep and leftover tricks. Also you get to read Kenny's own rants about the way America is going and his hatred for the "pricks" at the Health Department.
Buy a copy for yourself, give it a read, and may it inspire you as much as it did me.
Cheers!
Colin