Rouxbe Launches Cooking School
Posted by Ben Garfinkel on Thursday, July 17th, 2008
Tags for this Article: cooking school, online cooking, online recipes, rouxbe, rouxbe.com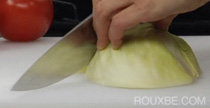 As someone who has been through basic French cooking training, I can tell you it's an invaluable addition to your culinary knowledge. Of course, the hands-on, in-person approach is not easily matched by online or other methods of learning, but it seems Rouxbe, our favourite online video recipe site, is breaking new ground in this area.
Rouxbe has a terrific aesthetic, great recipes accessible to the novice and the expert (you can drill right down to the text recipe right away, or learn about the techniques and ingredients involved and see how it's done if you need the help).
From knife skills to sauces and beyond, now you can get that culinary education you've been meaning to get to all these years, and do it on your own time.  The Rouxbe Cooking School is a fully integrated experience that mirrors an actual culinary academy, complete with up-close instructional video, "edible exercises," progress reporting, evaluation quizzes, and chef and community support. The instruction is a fraction of the cost of a program at a traditional culinary institute and takes a quarter of the time to complete, allowing busy home cooks to have their cake and eat it too.
The school uses a two-prong approach that is unparalleled in the online cooking world. It pairs excellent "how-to" content, which teaches skills and techniques necessary to drive cooking success, with unique "why-to" content, which helps students really understand cooking and frees them from following recipes. The Rouxbe Cooking School doesn't just teach students how to cook; it aims to empower them to think for themselves in the kitchen and to create gourmet meals like a professional chef.
Initially 20 lessons have been released, which is approximately 15 percent of the total curriculum. You'll be amazed at how your cooking will improve once you understand the 'why' behind the techniques and recipes and lead, not follow along. Once you have that, you can go well beyond other people's recipes and do your own thing.
I'm planning to survey the introductory lessons to compare it to my own experiences in classes, and then keep going and pick up where I left off. I'll report as I go along.