r.TL
Posted by Ben Garfinkel on Friday, May 8th, 2009
Tags for this Article: blogger outreach, r.TL, Regional Tasting Lounge, restaurant, review, Wine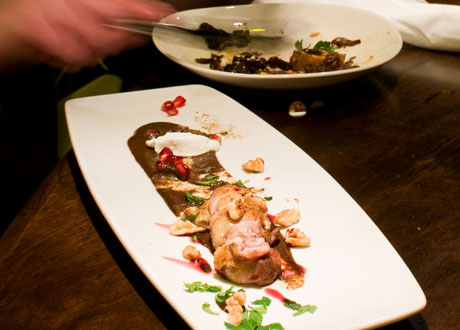 A read through the comments on the Foodists post To Review or Not Review will reveal an interesting discourse on the notion that today's restaurant cannot afford to ignore the online world. What's said about them, good and bad, by the experienced or amateur reviewer is going to have a significant effect. Rather than fight this, those that open their arms, doors and menus to the blogging community may find themselves in uncharted waters and a little uncomfortable at first, but it's a great way to get the word out.
And so it was four of us were invited down to check out r.TL in Yaletown.  r.TL stands for Regional Tasting Lounge and the concept is a fresh menu each month featuring the influences of two new regions from around the world every three months alongside a constant offering from British Columbia and a tight selection of wines, including some from Anthony Nicalo's Farmstead Wines.
I'd actually been by the place the week prior and had wondered what it was. With a dark, almost black front window with a floral scroll-like pattern on the glass and no discernible door, it is a little strange. I thought it was a hair salon at first. Walking up to it, there's a multi-coloured type of LED light shining down onto the sidewalk and the door slides open automatically, just a few seconds after I awkwardly reached for some kind of handle. It made me feel like I was walking through a combination of airport security and a tanning bed. Anyway…
It was 6:00pm when we arrived and we were seated at a centrally located four top. We were offered our choice from the tight wine menu and chose to allow the server to make our selections. I was pleasantly surprised that after several glasses my pick of the night was actually a 2005 Cabernet Merlot from BC's Blackwood Lane. r.TL was rather generous with the wine and beverages. I was driving later or would also have indulged in one of the cocktails on offer too. Any drink menu that starts with a Negroni has to be decent, but the Gin Gin Mule looked quite appealing. "A creation of Audrey Saunders of the Pegu Club in New York" says the menu and lists Bombay gin, house ginger beer, mint, lime juice and soda as the ingredients. This is one drink I'll be trying on my next visit, and I'm thinking will be duplicating all summer long too.
We were each presented with a long plate featuring a selection of canapés based on their main menu items. Here's what was on it:
Dungeness Crab and Shrimp Cakes with fresh ginger, roasted corn kernels and red onion relish, Prawns Piri Piri, Bolhinos de Bachalhau (salt cod fritters with parsley and onion, safron aioli, piri piri dip and roasted garlic mayon), Pate au Fois Gras de Canard served with pickled red torpedo onions and a Nicoise Salad of fresh micro greens, quail eggs, haricor vert, nicoise olives, fingerling potato and seared albacore tuna.
There wasn't a single item on that plate that I can comment poorly on. The salt cod and the prawns were my picks, though who can turn a nose up on fois either? The only downside is that it left me wanting more since the portions were small and seconds were not offered. I realize that this was just to give us a sense of the menu, but it seemed a little out of proportion to the generosity shown with the wines. A side order of bread was brought to the table at our request so we'd be able to make it to our next destination in some state of coherence.
Oddly, we've not received any emails with their monthly menu selections, but a follow through to bloggers and even just an old school email blast to opted-in customers would be perfect. And, if they are truly web-savvy, they need to do some work on their website to feature the latest menu and on SEO since a google of their name does not bring up their own site, the one with the awkwardly chosen url www.rt.l.
Would I go back? If I was in Yaletown and looking for a decent glass of wine served by knowedgeable and friendly staff, and a decent food experience that I could expect to be interesting and varied every time, then sure. However, I might hesitiate to do so on a nice sunny day simply because of the darkly tinted front window and closed-in feeling that gives. My wish though is that they drop the somewhat passé ornate scrolly-scripty design elements and the abbreviated version of the name/logo which only serves to confuse passers-by. We were unanimous in that and the bland, ubiquitous decor, but if you can get past that, you won't be disappointed by the rest.