Watermelon Herb Feta Summer Salad
Posted by Mark Busse on Friday, June 12th, 2009
Tags for this Article: feta, herb, recipe, Salad, summer, watermelon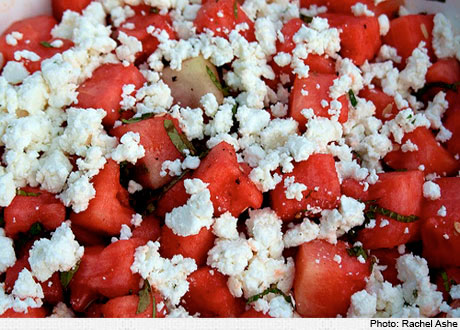 I like watermelon. No two ways about it. And when the warm weather arrives and summer is around the corner, I find myself drawn to the cool, juicy, sweet fruit and start experimenting with ways to serve it. Last year I was all over scallop ceviche with minted watermelon and coconut foam (delicious!), but this year I've been whipping up a simpler version as a savoury side salad. It's so easy to make and people love it.
Cut red seedless watermelon into 1″ cubes, chiffonade equal parts basil and mint (how much is up to you), sprinkle on some sea salt and freshly cracked pepper, add some crumbled goat feta cheese and drizzle the whole mess with the best olive oil you can find (I used Renato Fenochio available from Farmstead Wines).  That's it! Melon, herb, S&P, feta and oil. Done! Serve chilled.
What's your favourite quick summer salad secret?