Savory Summer Watermelon Salad Recipe
Posted by Melody Fury on Thursday, May 19th, 2011
Tags for this Article: cheese, corn, Goat Cheese, lime, mint, olive oil, Olives, onion, summer, watermelon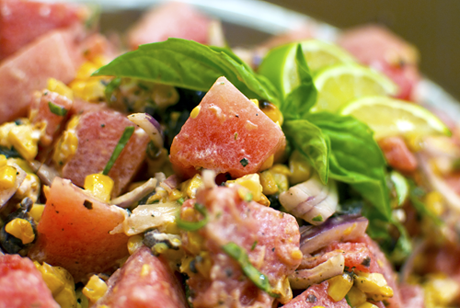 Playing around with contrasting ingredients to create unlikely flavours  riles me up. I love it when my guests look hesitantly at their plates at first, then burst out saying "wow, I never thought that would work" after a bite. Watermelon is one of those underrated ingredients.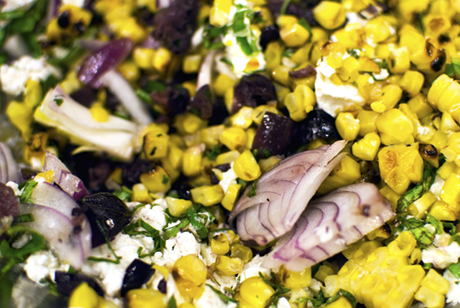 Since fresh corn is in season, I took the opportunity to grill some up beside our meats. The slightly charred kernels pop with smoky sweetness. For the savoury component, I introduced a milky goat cheese and oily, briny olives that meld into an effortless dressing. The citrusy lime and fresh mint tie the salad together with a bright finish.
It's just that simple. This light, yet robust salad goes superbly with any meat or fish from the grill. Some may raise their eyebrows at the black olive but they'll be hooked before you know it.
What are some unconventional savory and sweet combinations that you love?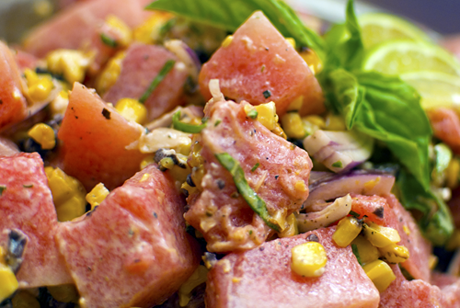 Savory Summer Watermelon Salad
Ingredients
1/2 medium-sized watermelon, chilled and cubed
4 fresh corn ears, husked
1 large red onion, sliced thinly
2 cups black olives, pitted and chopped roughly. Only use pre-pitted olives if you are in a time crunch.
1 cup goat cheese or feta cheese
1 bunch of fresh mint, chiffonade
1 lime, cut into wedges
extra virgin olive oil
salt and pepper
Directions
Rub the corn with olive oil and season with salt and pepper.  Grill until lightly charred on a hot grill. When cooled, slice off the kernels by following along the cob with a knife.  Scrape off the remaining kernel bits and the "milk" and set aside.
In a large serving bowl, drizzle 1/3 cup of olive oil and juice of 1/2 lime over the watermelon.  Add the corn, red onion, and olives and toss.
Break the goat or feta cheese into chunks and add to the watermelon mixture, along with the mint.  Season with salt and pepper to taste. Gently fold until incorporated.
Garnish with mint leaves and additional lime wedges. Serve chilled.
Yields 6-8 portions