Eggy Custardy Morsels
Posted by Ben Garfinkel on Wednesday, June 17th, 2009
Tags for this Article: Dias Coffee Shop, egg custartd tart, egg tart, pastry, Portugese pastry, vancouver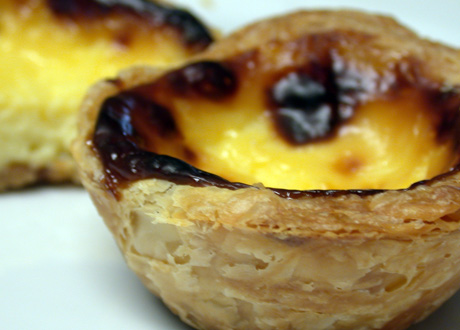 When we moved into our current home there was a little corner store / coffee shop run by Mario and Maria, an older Portugese couple. About six months later they closed so the building could be renovated. No one ever expected it to be a 26 month hiatus. Not too long ago they returned, converting the corner store to more of a coffee shop.
Personally, I still find the coffee a bit harsh, but Maria makes these unbelievable Portugese egg custard tarts. Available every day, these little three-bite wonders are perfect, flakey pastry with just a little give and filled with a sweet, smooth, almost brulé-like yellow egg custard. The edges are carmelized just a little, almost burnt, but not quite which adds yet another dimension of flavour and texture.
I've always been a sucker for custard, and the most accessible egg tarts in this city are the Asian ones. Usually these are not as sweet and the consistency is varied. I've not found one I can definitively say I'm fully enamoured with. Not so here. I can't help myself, and though I can usually avoid getting one on alternate weekends, it's not uncommon for one of these morsels to be the secret impetus for a short stroll with my daughter. Oh, and they're only $1.25 each. A pittance for such amazing home baking though you'll need at least two if you're hoping to savour them throughout your cup of coffee.
At the risk of demand outstripping supply, and against my better judgement, I'll share the location: Dias Coffee Shop, corner of Commercial Street and East 20th in Vancouver. Best get there early, and before me.