Salumi: Lucky Seattle
Posted by Degan Walters on Sunday, November 8th, 2009
Tags for this Article: batali, charcuterie, coppa, cured meat, lunch, meat, pioneer square, roadtrip, salami, sandwich, Seattle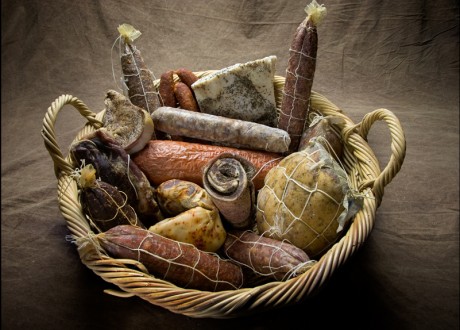 My beef with restaurants that don't take reservations is that it doesn't make sense to the customer (me, at least) to stand around and wait when I know where and when I want to eat. But what if it makes sense for the restaurant? If you could be outrageously successful working 20 hours a week, wouldn't you do it?
I sure would, which is why I was trying to be patient with Salumi.
The charcuterie shop in Pioneer Square is the retirement project of Mario Batali's father, Armandino Batali, and for a while I tried to pretend that its popularity was celebrity-induced. But then Owen took a roadtrip for the express purpose of eating the specialty cured meat and it moved to the top of the list.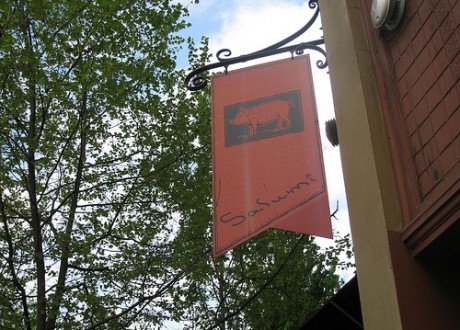 The trouble is that even at the top of the list, it took me months and 3 trips to Seattle to actually get there. Did I mention they are only open 20 hours a week? 20 weekday hours. This is great for people who work in Pioneer Square and want an awesome lunch. It's less helpful for the rest of us and after I made it to the door a couple of times – getting there early enough to stare longingly at the greasy fingerprints still on the window, but too late to make any myself – I started to sulk. I had all but given up when my last trip took me down midday to an office only a couple of blocks away. I was twitching with excitement, then worry as meetings went longer and got delayed and when my client asked if there was anything else we needed to do in Seattle, I managed to yell I HAVE TO GET SOME SALAMI before running out the door.
There was no line, which was worrisome, because from all reports there is always a line. But no, it was open and I managed to order a sample platter of select meats. I thought about ordering one of everything, but visions of chucking cured meat out the window in the border line forced restraint.
And so you know how sometimes food tastes amazing only because you've waited a long time for it? I sometimes think that's the strategy of restaurants with long lines, but that was not the case here at all. Greasy good salami, in all different sizes and flavours and all were amazing; hot soppressata, fennel and even chocolate! I ate them all happily from the tinfoil with my fingers. I can't even imagine how good the soups, sandwiches and pasta dishes must be. Maybe next year I'll be able to sample something else.
Salumi is in Pioneer Square, 309 3rd Avenue South, in Seattle.