Save-On-Meats, RIP: Retired In Pieces
Posted by Johnathon Vaughn on Saturday, March 14th, 2009
Tags for this Article: butcher, vancouver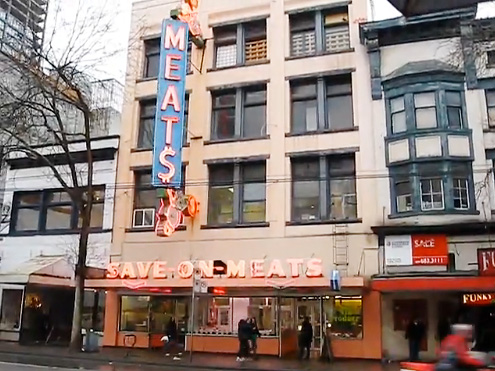 Yesterday, March 13th, the iconic heritage landmark on West Hastings Street served their loyal customers for the last time, leaving the downtown east side without its great retro lunch counter. Owner Al DesLauriers, who bought the building in 1957, is finally retiring, leaving the future of the butcher shop on the chopping block.
My BFF (Best Food Friend) Alec and I decided to have one last gas-p at the offerings of Save-On-Meats whose neon frontage has been lighting up the downtown eastside of Vancouver for over 50 years. Alec took on the classic double cheeseburger (all burgers are doubles here!) and fries for the low price of $6, while I selected a steak at Al's butcher counter to be grilled alongside some veggies and fries. The back counter "Coffee Shop", will grill the chosen steak for an additional $5, as long as it is under 16 ounces. Damn.
Although the butcher shop is now closed, the produce department and Coffee Shop will remain open. To enjoy some of what you may have missed, or to relive some of what you have experienced at Save On Meats, we have an impromptu video blog of our experience at www.gourmetvsgourmand.com. We created the video blog for a tutorial seminar at a local college for media students.
We had so much fun recording and enjoying guerilla-foodie-style eats in the urban jungle, that we will be adding to the podcasts soon but with HD and a decent script!