Tenku Bakudanyaki is Supersized Takoyaki
Posted by Stephanie Co & Todd Smith on Thursday, June 18th, 2009
Tags for this Article: Japanese, review, Richmond, takoyaki, Tenku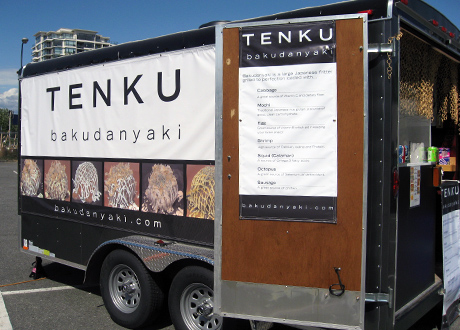 My sister invited me out this afternoon for this so-called giant takoyaki ball. Not only was the idea of eating interesting, but the mention of these Japanese-style fritters being served out of a van in Richmond certainly got my attention. After a few U-turns, we managed to find this inconspicuous van, (it was actually a little trailer) parked on a empty lot across RONA.
Immediately, we were both were delighted by the simplicity of the operation. Tenku Bakudanyaki has no seating, just a little tent to eat under.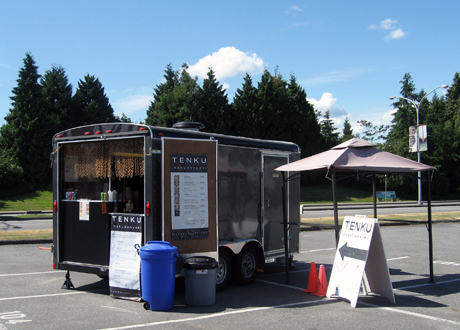 Each bakudanyaki costs 500 cents (yes, it says 500 cents on the menu) and is baked with seven main ingredients: cabbage, shrimp, octopus, squid, quail egg, rice cake, and sausage. The difference between these tasty morsels is the sauce and toppings. After ordering an original for myself and a pizza for my sister, we waited roughly three minutes and were presented with a fist-sized bakudanyaki in a little cute Chinese take-out box. It was beautifully sprinkled with bonito flakes, seaweed, and drizzled with our chosen sauces. Napkin and chopsticks tucked in on the side.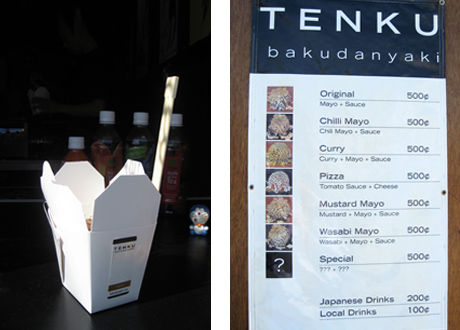 Though everything tasted great, I found that mine had too much mayo and it was overpowering the other ingredients. Still, we ended up leaving with smiles on our faces and our jeans stretched.
Open 7 days a week from 12:00pm – 9:30pm, this relatively unknown set up is located on a parking lot between Gilbert Road and Elmbridge Way. It's perfect for anyone wanting something a little different.