Nat Decants Releases Food & Drink Pairing Mobile Application
Posted by Mark Busse on Friday, June 19th, 2009
Tags for this Article: app, BlackBerry, food pairing, iPhone, mobile, Nat Decants, Natalie MacLean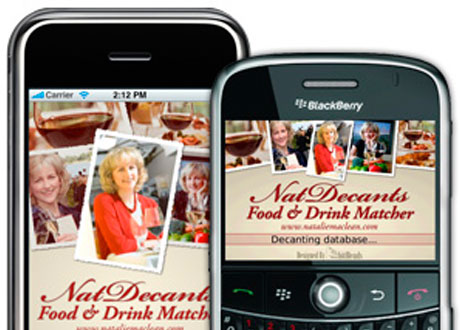 Our friend Natalie MacLean—a dedicated "Foodist", wine expert, and author of the wildly popular Nat Decants website
www.nataliemaclean.com—has just released Canada's first wine & food mobile application.
Aptly named Nat Decants Drinks Matcher, the application boasts 380,000+ pairings in your pocket, allowing wine and food lovers to discover new pairings using their smartphone, whether they're in the liquor store or a restaurant!
The Nat Decants Drinks Matcher is only $2.99 and can quickly be downloaded from the online stores for iPhone/iPod Touch or BlackBerry. For a quick demo about how the app works, visit www.nataliemaclean.com/mobilematch
Maybe it's time for Foodists.ca to release a mobile app, hey?