Food.ee aims to outfox boring food by connecting food lovers with take out and delivery
Posted by Mark Busse on Sunday, October 23rd, 2011
Tags for this Article: delivery, food.ee, Invoke, take out, vancouver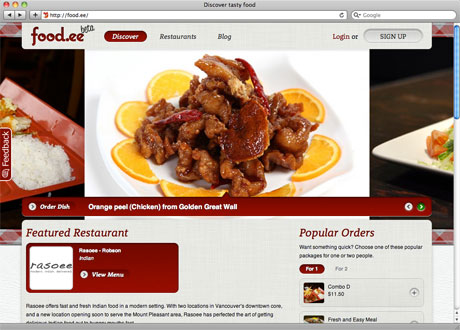 Like a lot of good ideas, the recently launched Food.ee was conceived out of frustration. There are a so many restaurant reviews sites, but when you analyze them for the value they offer hungry visitors looking for a good meal, they fall short.
"We were sick of ordering from the same take out restaurants, and the best way to explore and find quality is by asking experts or friends." says Food.ee CEO Jon Cartwright. "We thought it would be great to help people do this with Vancouver's 400+ take out restaurants by offering personal recommendations based on order history, personal taste, and diet, and also highlight the city's most popular items." Sounds good, right? I agree. I wanted to learn more!
Created by the talented folks at Vancouver-based digital agency Invoke Media, the team behind Hootsuite and the Eat St. mobile app, their press release states:
Food.ee is designed to make ordering takeout or delivery easy, intuitive and social. The website app gets to know users and curates recommendations based on past purchases, what friends have eaten, and the data in a personal profile of tastes and preferences. Additionally, a geo-location tool provides the most relevant recommendations to allow users to discover what is nearby for a quick hunger fix. The website will also includes a Discover section where users can read about featured restaurants, other foodees, and get updates to the application as they happen.

"We knew we weren't the only ones tired of using multiple services to find a new restaurant to go to," said David Tedman, Co-CEO of Invoke, the digital agency that built Food.ee. "Reviews are great, but we wanted to improve suggestions by curating them based on a customer's personal taste graph using patterns and similarities in the food they typically eat, and the types of restaurants they or their friends go to."
But does it work? I wanted to know, so I signed up and poked around. The default homepage for Food.ee is a "Discover" section featuring local restaurants, foodees and chefs, and provides users with up-to-date about additions to the application. The interface is cute, with a fox mascot (which looks just like the Hootsuite owl) and the user experience is refreshingly simple, but I struggled to find the real value for me as a user—yet.
I rarely order take out food, but I do long for fine dining fair at home at times, so when I first heard about Food.ee I was hoping it would include home delivery, sort of like TakeoutTaxi.com. It doesn't, although for those restaurants who do offer delivery, it allows the user to both order and coordinate delivery at the same time. And it seems to work pretty well.
I wanted to browse the master list of restaurants on the site for ideas which ones I would order from, but when I clicked on the "restaurants" button, it showed one solitary business. Now, this was at 10am on a Sunday, so my guess is that only those restaurants that are actually open show on their map and list, but still.
I sort of like the idea that Food.ee plans to add a feature that suggests food options that I might enjoy, but I found the "pop quiz" on the sidebar distracting. Asking questions like how hungry I get (repeatedly) or what my favourite protein (and not listing lamb) started to get on my nerves if I'm honest.
One of Food.ee's promises is to allow users to share your food experience with friends and make recommendations. I like this idea as a more useful way to judge whether I'll like a restaurant or not compared to options such as Urban Spoon or Yelp, both of which are great but lack any credibility for me. I'm far more interested in recommendations by members of Foodists.ca for instance than the rants and raves of strangers who fancy themselves food bloggers. But as far as I could tell, there is no "social" aspect yet on the beta site recently and I'm curious how that will take shape.
It's early days for this new site, and Jon Cartwright told me they'd be adding new stuff regularly, such as more restaurants each month, an iPhone app, personal recommendations, weekly specials, and an expansion to other cities across North America.
So for me, Food.ee may not be the ultimate online food discovery tool yet, but I do think with some additions and fine-tuning, it has the potential to become a terrific resource for anyone who loves good food and the convenience of eating at home or on the go. And this could prove very beneficial for local restaurants seeking a broader customer base.
Have you tried Food.ee yet and had a different experience? Tell us!