Social Bites
Posted by Degan Walters on Monday, June 22nd, 2009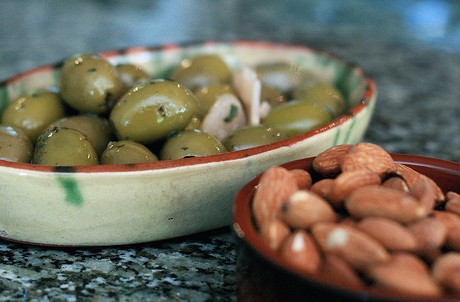 It seemed like not very much time passed between hearing about Social Bites, meeting Annika and Jules asking me to be her sous-chef in the next dinner. That momentum carried over to choosing a theme based on our travels (how about Mediterranean?), menu creation (ok, we need phyllo, meatballs, olives and what else?) into the main event where all our prep and practice time seemed to evaporate. But we were confident regardless.
That is, I was confident until Jules told me I was in charge of the pastry. For anyone who knows my baking ability, putting me in charge of pastry is a sure way to ruin something, but she had already been working for hours on making the meatballs, phyllo filling and Romesco sauce so I couldn't really argue. Besides, she was the chef, so I rolled out the pastry with trepidation.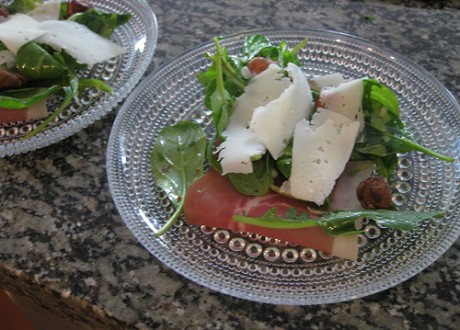 In the end it all came together even better than we could have hoped. We set the patio table outside with a red-checked tablecloth and tumblers for wine glasses and if there had been a matronly Italian woman hanging out her laundry across the way it would have looked just like a trattoria I ate at in Rome.
There were almonds and olives to snack on and when the first guests were settled in, we brought out the food; Spanish albondigas (meatballs) with green olives, grilled courgettes and aubergines with Romesco sauce, and modified spanikopitas with a lemony spinach and walnut filling. This was followed by an arugula salad topped with proscuitto, roasted hazelnuts, and shaved manchego cheese.
Of course there was also a lot of wine and after the second guests were sated, we all headed to Xoxolat for dessert. There we tasted Criollo and cacao, had a chocolate lesson and finished with decadent hot chocolate while Annika announced the winners, Cliff and Brenda. It was so much fun and I'm already trying to figure out how to do it again. Her next neighbourhoods of choice are the West End/Coal Harbour or Main Street, so if you know any chefs who live in the area, make sure you get them to sign up.