Foodists Bake for the Quake
Posted by Jules Morgan on Wednesday, April 27th, 2011
Tags for this Article: bakeforthequake, baking, brownies, caramels, charity, community, decadent, doctorswithoutborders, Japan, recipes, shortbread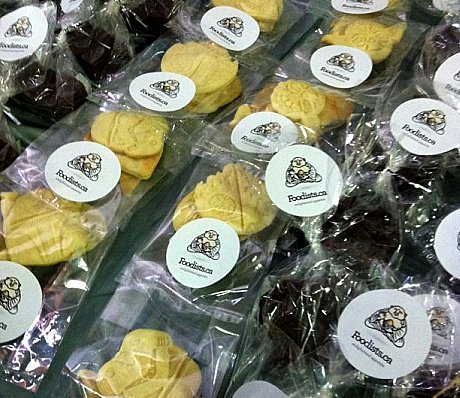 When we were approached a few weeks back by fellow Foodist Melody Fury about helping out with the bake sale she and Joy were organizing, the response was a resounding yes. With a collective of passionate food worshippers, it shouldn't be hard to put together a team to bake some tasty morsels and so stepped forward Social Bites' founder, Annika Reinhardt along with Foodists Brenda Lowe, Jules Morgan, Sharlene Sobrepena and guest contributor (soon to be Foodist!) Cara Payne.
And so began weeks of recipe searching, several tests (and tastings!) and a Sunday afternoon teaching Annika how to bake shortbread cookies. The event was a resounding success, with over 25 bakers offering their time and baked goods to the 650 Vancouverites passing through the doors, and the Foodists / Social Bites table selling out of all their baked goods in less than 2 hours.
The event raised over $7,000 in under 3 hours for Doctors Without Borders, making Bake for the Quake the largest Bake Sale in Vancouver's history… and hopefully not the last.
So what was on offer from the Foodists? From Star Wars shortbread cookies, to melt in your mouth scones, decadent port soaked cherry brownies and caramels, we've included all of our recipes below. Sharlene's Banana Bread can be found here.
Happy baking!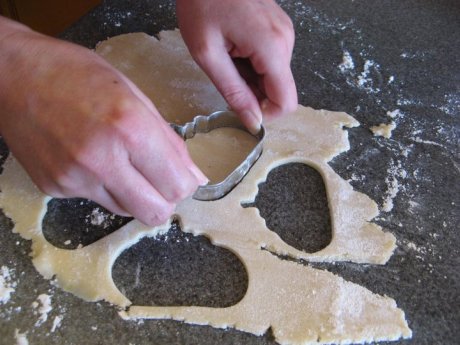 Shortbread Cookies (Jules and Annika)
2 cups (260 grams) all-purpose flour
1/4 teaspoon (2 grams) salt
1 cup (2 sticks) (226 grams) unsalted butter, room temperature
1/2 cup (60 grams) powdered sugar
1 teaspoon lemon zest, grated and chopped very fine
1 teaspoon (4 grams) pure vanilla extract
In a separate bowl, whisk the flour with the salt.  Set aside.
Beat the butter until smooth and creamy, about 1 minute. Add the sugar and beat for about 2 minutes, until smooth. Beat in the vanilla extract and lemon zest, then gently stir in the flour mixture just until incorporated.  Flatten the dough into a disk shape, wrap in plastic wrap, and chill the dough for at least an hour or until firm.
Preheat oven to 350 with the rack in the middle of the oven.  Line baking sheets with parchment paper.
On a lightly floured surface roll out the dough into a 1/4 inch (.6 cm) thick circle.  Cut into rounds or other shapes using a lightly floured cookie cutter.  Bake for 8 – 10 minutes, or until cookies are very lightly browned.
Cool on a wire rack.
Chewy Chocolate Caramels (Brenda)
Adapted from The Essence of Chocolate by John Scharffenberger and Robert Steinberg
Unsalted butter for the pan
2 cups heavy cream
2 cups granulated sugar
1 1/2 cups light corn syrup
1 1/2 teaspoons salt
12 ounces of ~60%semisweet chocolate, finely chopped
Cut a 9 by 17 inch piece of parchment paper. Lightly butter a 9 by 9 by 2 inch pan, and line it with the parchment paper, letting it extend evenly over two opposite sides.
Stir together the cream, sugar, corn syrup, and salt in a large deep pot with a heavy bottom (the mixture will boil vigorously). Clip a candy thermometer to the side of the pot. Bring to a boil and then continue to cook until the mixture reaches 250F. Remove the pot from the heat and let cool for 5 minutes.
Add the chocolate and stir with a heatproof spoon or spatula until the chocolate is melted and the mixture is smooth.
Pour into the prepared pan and spread into an even layer with a small offset spatula. (Do not over mix or the fat may start to separate out and the mixture will look grainy. If that happens, pour it into the pan and smooth it out, and blot away the excess fat with a paper towel.)
Allow the caramels to cool at room temperature, until firm, at least 2 hours.
Lift the caramel block from the pan, using the parchment paper "handles" and place on a cutting board. Cut the caramels into 1 inch squares.
Store the caramels in an airtight container.
Makes 81 caramels.
Chocolate Cherry Brownies (Brenda)
Adapted from 101 Cookbooks
Butter for greasing parchment paper
2 cups | 10.5 oz | 300 g dried cherries
scant cup | 200 ml | 7 fl oz port wine
1/2 cup | 2 oz | 55g all purpose flour
1/3 cup | 1.5 oz | 40 g cocoa powder
1/2 teaspoon fine grain sea salt
2 teaspoons baking powder
10.5 oz | 300g ~60% dark chocolate chips/chunks
5 1/2 tablespoons | 2 3/4 oz | 80g unsalted butter
2 cups | 10.5 oz | 300g granulated sugar
4 large eggs
scant 1/2 cup | 3.5 oz | 100 g creme fraiche or sour cream
1 cup | 5 oz | 145 g chocolate chips/ chunks
A day or two before you want to bake the brownies, place the cherries in a medium bowl and pour over the port. Cover and set aside. Stir every twelve hours until ready to use.
Preheat the oven to 325F / 170C and place a rack in the top third. Generously butter a sheet of parchment paper large enough to fit into a 13 x 9 x 2-inch rectangular baking pan. Line the pan with the buttered parchment sheet. (An important step if you want to eventually get these brownies out of the pan.)
Sift the flour, cocoa powder, salt, and baking powder into a bowl and set aside.
Make a double boiler by placing a stainless steel bowl over a small pan of gently simmering water – the bottom of the bowl should not touch the water. Place the 10.5 oz / 300g of chocolate into this bowl along with the butter and sugar. Stir just until the chocolate has melted and the ingredients come together into a mass. Transfer to the bowl of an electric mixer and allow to cool (cool enough that it won't cook the eggs when you add them). Mix on slow and add the eggs, one at a time, letting each get incorporated before adding the next. Scrape down the sides of the bowl with a spatula a couple times along the way. Add the flour mixture and stir by hand until combined, then add the creme fraiche or sour cream, the remaining chocolate chips, and the cherries with the port. Stir until just combined.
Spoon the mixture into the prepared pan and bake for about an hour, or until just set. Rotate the pan halfway through the baking time. The center of the brownie should be set and not at all wobbly. Allow to cool completely in the pan. You can cover the pan tightly with plastic wrap at this point and the brownies will keep for a couple days. For ease of cutting into small precise squares, chill the brownies thoroughly before cutting with a long sharp knife. Also keep a tall glass of warm water on hand to wash your knife between each cut. Enjoy at room temperature dusted with a bit of cocoa powder.
Makes 15 large brownies.
Fruit Scones (Cara)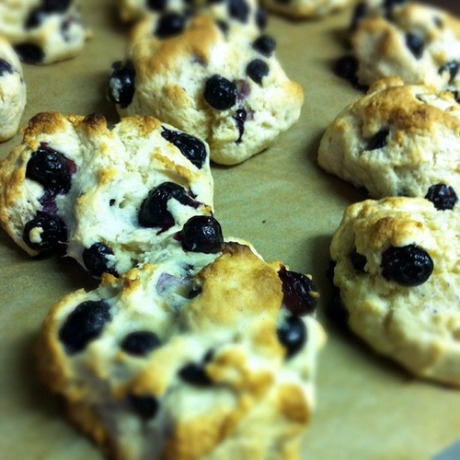 Makes about a dozen
2 cups all purpose flour
1/6 cup packed brown sugar
1/6 cup icing sugar
1 tablespoon baking powder
1/2 teaspoon salt
1/2 cup chilled butter, diced
1/2 cup milk
1 egg
Add whatever you like as a fruit or flavour.  A cup of frozen Blueberries, Raspberries, Currants/Raisins, etc…  Depending on the main fruit I also like to add an accompanying flavour for the dough – like lemon zest/juice, or cinnamon.  This recipe also works well with butterscotch or chocolate chunks… whatever you want your scones to be filled with.
Preheat oven to 400°F.
Combine together flour, sugar, baking powder, and salt in medium bowl.  Include lemon zest or cinnamon, or whichever spice you choose to match your fruit choice. Add butter; using fingertips, rub to form coarse meal.  (FYI, I use salted butter which, according to Julia Child, is the same as regular sweet butter in France – none of that unsalted butter here!)
In a separate bowl, whisk together the milk and egg. Gradually add to flour/butter mixture.  This is a pretty sticky dough so I use a spoon to blend it all together.  If you prefer your hands then by all means jump on in!
Mix in fruit or whatever you decided to add as a flavour.
Drop dough by the ¼ to ½ cup onto parchment on a baking sheet, about an inch apart.
Bake about 20 minutes, or until golden brown.  Delicious!