Serving up Summer Smoke with Social Bites
Posted by Tyler Wilman on Friday, July 15th, 2011
Tags for this Article: BBQ, competition, dinner party, Gianni D'Andrea, hobby chef, smoking, Social Bites, Tyler Wilman, vancouver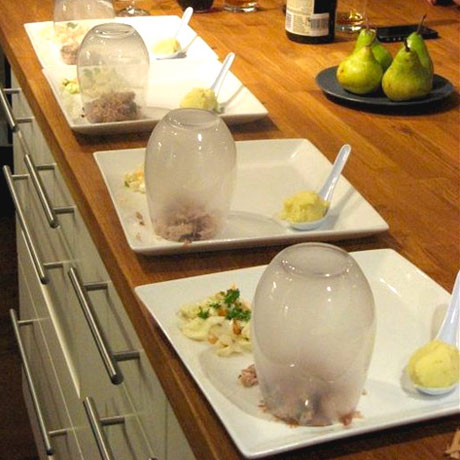 Our latest guest contributor is Tyler Wilman, a Vancouver-based communication designer and photographer who enjoyes the challenge of trying new things in the kitchen and love nothing more (except maybe pretty things and motorcycles) than entertaining dinner guests. So, when Wilman was dared to compete in a friendly dinner party competition he teamed up with a friend and dove right in—and won. He describes the experience and how they did it. – ed.
If I were to describe my cooking style, I think that I would fall into the "experimental chef" category. I like to take whatever is in my fridge and find some way of combining ingredients to make a sometimes fantastic, sometimes very "interesting" meal.
I would by no means consider myself a hobby chef, which is why I was nervous when a friend of mine asked me to participate as a cook for an event called Social Bites. I had heard good things about the event but I had never been and by no means had considered myself talented enough to cook for it.
What is SocialBites you ask?
Well, in short it's a dinner event that encourages conversation over food. Four hobby chefs prepare a meal for two "sittings" of four people. Guests come to your house, they mingle, they meet other people, they eat and in the end, they judge your meal not only on taste, but also on presentation and hospitality. Because of this, the event is a great way to meet people over food. Not only do you get the chance to experience the passion that went into the meal you eat, but you share this with complete strangers in the intimacy of someones' home.
Gearing up for the event I found myself asking others who had participated in Social Bites, either as a chef or as a guest, what they thought of the past events, and what important elements I needed to focus on while preparing for what felt like a massive undertaking. The reaction that I got was positive — everyone thought that it was a great experience and a great opportunity to get out there and meet some new and interesting people. The competition was only one aspect of it, the real pleasure was engaging with people and participating in something you love. With this in mind, I decided to ask my good friend JD to be my sous chef. He had participated in Social Bites before so I figured, if anything, he could help me fill the informational gap. (He is also an incredibly good looking man so I thought that couldn't hurt us in the hospitality category!)
Being new to the Social Bites experience, and a little nervous about cooking for people, We decided to prepare something simple…or so we thought. Summer was approaching and we figured it was the perfect time to introduce some good, slow cooked BBQ to the menu. Neither of us had never done this before but I always thought of myself as great on a grill—how much different could this be…? Well, it is!! Smoker BBQ done the right way, slow and low, requires a lot of preparation but is fairly simple to maintain once you get it going. The set up is like this: stack your coals in the bottom of the smoker with about four or five wood chunks to give the smoke flavouring. Typically you need to set aside a cooking time of 1.5–2 hours per pound of meat you are cooking. To keep with our "Summer Smoke theme, our strategy was to try and prepare one element from each dish in the Smoker BBQ which would add a nice flavouring and tie all the dishes together.
Preparation
Since we were Smoker BBQ virgins, we decided that it would be a good idea to do a dry run before the event, which turned out to be one of the best things we could have done because not only did it allow us to get all our mistakes out of the way, but it also allowed us to taste our dishes and make any flavour or pairing adjustments. We tested out how the flavours worked together and would compliment one another, which gave JD and I a good sense of the experiences our guest were going to go through and how to highlight certain flavours on the palate. Figuring out what tasted best with what and mixing flavours was a completely unique experience and I believe it helped us to perfect our dishes for the big night. Doing this, along with the preparation of the meal was the best part of the experience for me.
The Meal
Keeping with our Summer Smoke theme, we created a three course meal for our guests. For our starter JD created a fresh summer salad complete with lettuce and parsley grown on my balcony, cherry tomatoes, blue cheese and smoked figs. He topped this with an olive oil and lemon zest dressing with a dash of dill (also fresh from the garden) The salad was paired with a Skillogalee Sparkling Riesling to keep things light on the palate.
The main course was local Cutter Ranch Pork Shoulder that was smoked for about 8 hours and served with a side of smoked blue cheese mashed potatoes and a fresh coleslaw. In keeping with the smoke theme we devised a plan to serve this dish in a somewhat unique way to give the participants a truly unique dining experience. Since we used hickory and applewood chunks to smoke the pork we decided to take some of the wood and light it under a stemless wine glass, allow the smoke to rise up into the glass, and then placed the glass on the pork itself. When our guests removed the glass to get to the meat they were met with a flavorful aroma that enhanced their dining experience. We also paired this dish with an eight year old Basil Hayden's Kentucky Bourbon to continue the peppery, smoke flavours.
Finally for dessert I adapted one of my favourite recipes from my mom who always makes a Hazelnut torte for special occasions. I have replicated this over the years to a place that could be deemed comparable to that of my mom's, but for this occasion I decided to push things a bit further and smoke the hazelnuts. I also adapted the recipe for single servings and topped it all off with a raspberry puree. This was paired with an italian liqueur called Pisa which is a unique blend of almond, pistachio and walnut flavours.
The story behind the meal was an important aspect to my theme. My goal was to serve up something that my guests could do themselves with a little prep work. The vegetables could easily be grown on any balcony garden, the ingredients were fresh and local, and everything was promoted as such. We were lucky enough to get our pork shoulder from a farm called Cutter Ranch in Clinton BC where the pigs were grain fed and free range. The farmer actually delivered the meat herself!
The End Result
The end of the evening came and after some great food, some unique conversations, everyone who partook in the Social Bites event met at a predetermined location where more mingling happened along with the judging process. This was an interesting experience because it allowed us to meet with the other hobby chefs and talk about the food that was served at the other locations throughout the evening.
Afterwards, all the chefs had the opportunity to have the floor and share with the group the dishes that they prepared the votes were tallied and the winners were announced. To our surprise we came in with the highest votes and won the competition!
Overall, partaking in Social Bites was an amazing experience. It allowed us to try something that we were both unfamiliar and nervous about, but we got to meet a group of interesting people who all love food the way that we do. Social Bites is not about your skill level but the passion that you bring to the table.
I wanna do this!
Participating in Social Bites as a hobby chef, for me, is a much less daunting task than it first seemed. Guests were content with a fun, friendly environment and were looking forward to a nice evening meeting new people as much as enjoying some great food. There is some preparation that is involved in your dish, but feel that the emphasis was about making sure your guests had a great experience. Eat with them, joke with them and they will have a much more memorable time.
For more information be sure to check out www.socialbites.ca.