Bite-sized bagels? Why didn't Timmy's think of this first?
Posted by Mark Busse on Thursday, July 23rd, 2009
Tags for this Article: Bagel O's, bagels, Breakfast, cream cheese, fast food, Tim Hortons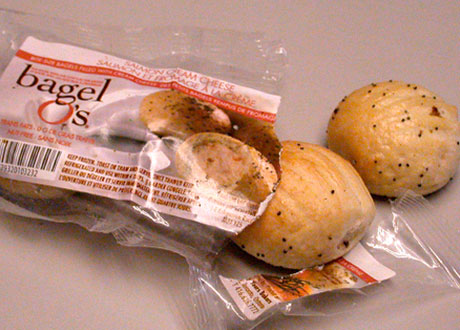 With apologies to all those who worship at the throne of Tim Hortons, I've never really understood the appeal…EXCEPT for Timbits. You can fit quite a variety of flavours into a box, and somehow eating these Lilliputian treats doesn't seem to carry with it the guilt of gorging yourself on their larger, sugary-sweet siblings.
But what if you're in the mood for something more chewy or savoury? There's really nothing better than a freshly baked bagel, toasted golden brown and served with cream cheese. But at Timmy's, you'll have to opt for the full-sized version only. And I've never found it worth standing in those line ups of shame, waiting for your sugar fix. (The ads lie folks—you can easily make better coffee at home.)
Bagel O's to the rescue.
These frozen bite-sized bagels, served in packs of three, are like the holes from the middle of regular-sized bagels, only filled with whipped cream cheese of various flavours; classic, blueberry, smoked salmon, and herb garlic. Made by Tastefully Yours Bakers in Toronto, these quick little morsels go from freezer to plate in mere moments and the result is a satisfying snack without the Timmy's line up!
Wait? Frozen? Fast food you mean? That was our initial reaction too, until we tossed a few into the toaster oven and tried them for ourselves. The flavour was really good, and the texture was rather convincing. And unlike even fresh bagels, which are actually surprisingly high in fat, calories and sodium, Bagel O's are certified Kosher, have no trans fat, no preservatives, are nut-free, and are as low as 70 calories each!
What, you too proud to serve five minute freezer snacks? I didn't think so. Trust me, you'll look like a star when you serve these warm, golden-brown bits of love oozing with melting cream cheese the next time you have guests over. Heck, I wouldn't be surprised if they appeared on pub appetizer menus soon. And you won't regret having these on hand on busy mornings as you rush out the door, steaming Bagel O's in hand.
Bagel O's are available across Canada at Shoppers Drug Mart, Walmart, and Real Canadian Superstore, and are a bargain at $1.49 per sleeve or $3.99 per package of 12.
I wonder how long until "Bagelbits" appear on the menu at Timmy's?