New Orleans Adventures: Café du Monde
Posted by Guest on Sunday, April 18th, 2010
Tags for this Article: beignets, donut, New Orleans, sugar, Travel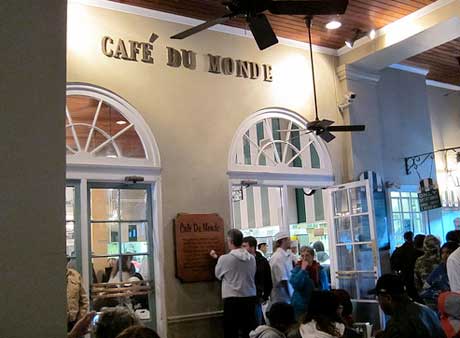 We were told not to return to Vancouver without going to Café du Monde for some beignets (a French version of a donut). I was sceptical – I'm not usually a dessert person, and would rather eat an extra appy than a usually nauseatingly sweet Timmy's Boston Cream. However, when in Rome, do as the Romans do, so off we begrudgingly went.
Café du Monde was established in 1862 in the New Orleans French Market, and is open 24/7 with the exception of Christmas Day and hurricane passes. As with every other tourist trap in the city, the line-up for takeout beignets was monstrous – over a block of angry, hungry people with their cameras, fanny packs and screaming children. Loophole – eat in! We were seated in less than 5 minutes in a crowded open-air tent. Iron and glass round tables likely from the US version of Canadian Tire were not exactly classy, but served their purpose. Best part of the atmosphere – a fabulous brass band playing just feet from our table!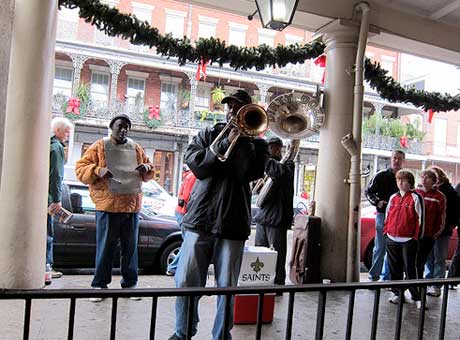 We ordered café au lait (not to be confused with café latte – this one is just coffee with hot milk), and an order of beignets to share. Market price: $7.50 for the 2 coffees and one order of baked goods. A plate came with three golden, deep-fried beignets, barely visible under a mountain of icing sugar.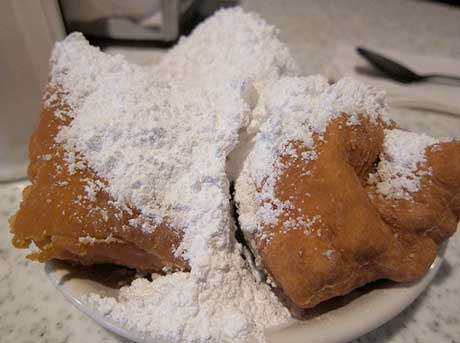 First bite was pure, delicious goodness! Surprisingly, they were not overly sweet like American donuts, exquisitely soft, and still warm out of the oven. A large sign outside advertised over 250 calories per beignet. It was the only downside to them, and was largely ignored. With fingers sticky from the powdered sugar, we devoured the last of our portion. On our plate remained a fairly hefty heap of icing sugar – evidence.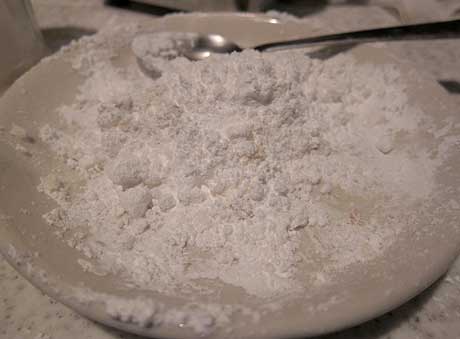 Café du Monde
1039 Decatur Street New Orleans, LA