BBQ BootCamp
Posted by Degan Walters on Wednesday, July 29th, 2009
Tags for this Article: barbecue bootcamp, Barbecue Secrets, BBQ, bbq course, bbqcamp, cedar plank, Foodists, lamb, meat, Rockin' Ronnie Shewchuck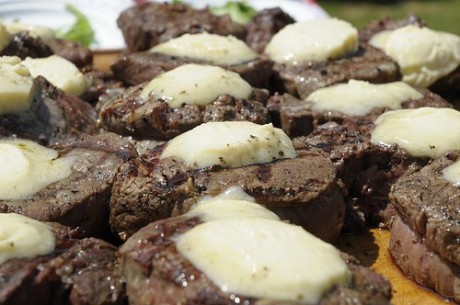 Photo credit: Steve Mynett
It was suggested, almost at the beginning of the Foodists BBQ Bootcamp put on by Rockin' Ronnie Shewchuk, that anyone who didn't feel like they could mix wines in the same glass was a ponce and should leave immediately. And that anyone who didn't want their meat rare was included in that category. BBQ BootCamp is not for the faint of heart.
Or stomach for that matter.
Grilled asparagus with lemon and salt and chipoltle aoli dipping sauce; apple rosemary quesadillas; grilled calamari with basil and cherry tomatoes; lamb popsicles marinated in herbs de Provence, rosemary and dijon, cooked in balsamic vinegar and served with fresh mint; cedar plank salmon with maple and Jack Daniels reduction; award-winning pulled pork sandwiches with coleslaw; rare beef tenderloin steak with gorgonzola butter; Ravenswood ribs and finished off with cedar-planked grapefruit with honey and Grand Marnier drizzle.
There were eight courses in all and each paired with a fabulous wine, thanks to Vincor and Ravenswood. Not only that, but there were so many tips, techniques and anecdotes from the BBQ Master that we left with our heads as big as our bellies.
For instance, who knew that the pork butt was actually a shoulder? Apparently a barrel full of shoulders used to be called a Boston butt, so (just like Buffalo wings!) it can be a little misleading.  Or that all kinds of good ingredients can be found at Winners? Or that to get that stuck piece of fish off the grill you just need to cook it a little while longer so it forms a crust. Hmm.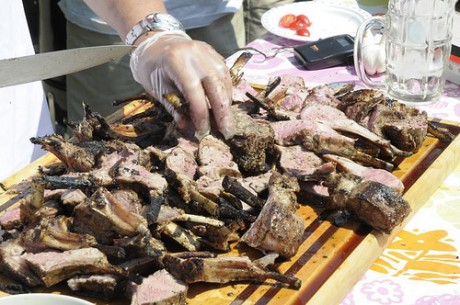 I was a little afraid to tell Ronnie that I didn't even own a BBQ, lest it be suggested that I leave as well, but I think that is a problem that's going to be remedied soon. I will need one, for instance, to take over my dad's go-to dish, cedar-plank salmon. Ronnie's tips for making it awesome are to soak alder overnight (cedar for a minimum of 2 hours), portion the whole salmon before you cook it so that it breaks into nice, easy pieces and glaze it with Jack Daniel's and maple syrup. Delicious.
Of course that was before the award-winning pulled pork sandwiches with coleslaw and the lamb popsicles with balsamic vinegar and fresh mint, during which I was reduced to mmm!-ing and sighing happily.
A dish you don't see much on the BBQ was the planked grapefruit with honey, ice-cream and Grand Marnier for dessert. I was expecting it to be cloying, but instead it was the perfect finish for all that meat.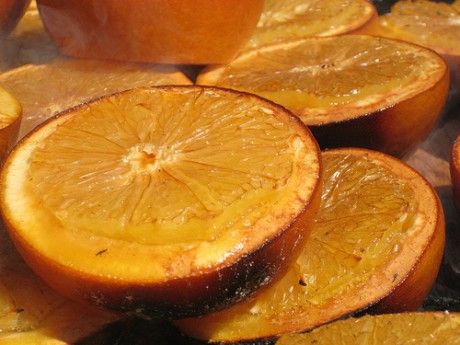 Photo credit: Ben Garfinkel
All of the recipes he made at the workshop are in his book, Barbeque Secrets Deluxe.
A number of Foodists were in attendance at this event – what were your favorite tips or dishes?