A Home-Cooked Spanish Fiesta
Posted by Degan Walters on Wednesday, August 5th, 2009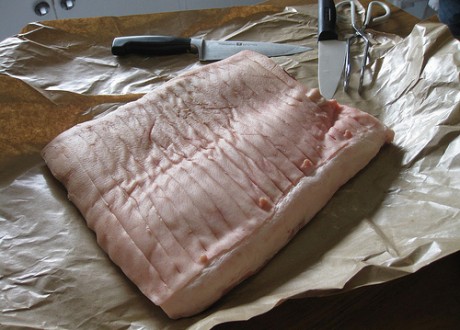 I keep telling people I want to move to Spain, and my friends, knowing I love both cooking and books, keep giving me Spanish cookbooks. At some point I realized that I had amassed several of them and not yet made anything other than a couple of dishes for Social Bites.  So some friends and I decided to do it up properly with a 9 course dinner – one course per guest.
This is what we made:
1-Fried almonds and mixed olives. Cava to drink.
2-Ajillo mushrooms with crusty bread.
3-Salad with arugula, Serrano ham, roasted hazelnuts and shaved manchego cheese, served with Castillo de Monseran viura wine.
4-Chilled cucumber soup garnished with mint, paired with Alvear Pedro Fino, a dry sherry-style wine.
5-Scallops cooked in cava sauce.
6-Sausage paella, served with Castillo de Monseran garnacha wine.
7-Roast pork belly with quince sauce and whipped potatoes.
8-Drunken (in sherry sauce) lemon sponge cakes called bizcochos borrachos with whipping cream. Paired with the same Alvear Solera Crema Olorosa cream sherry (the same as was in the sauce).
9-We were meant to have a cheese plate with Spanish cheeses and some pressed fig bread, but it just didn't happen.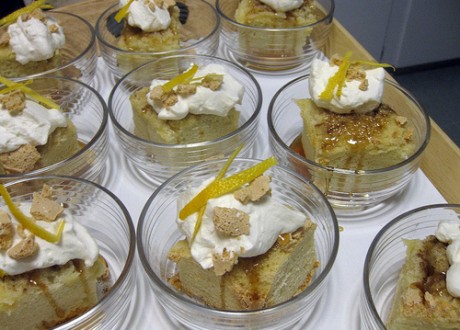 I learned a lot during the course of this dinner, other than cooking. For example;
Gazpacho, for instance, refers to the tomato-based chilled soup that most people have had, but nowadays almost any cold soup can stand in.
Sherry – something I've always thought of as my grandmother's drink – is both incredibly varied and delicious. It is made from grapes, but can range from the dry fino sherries that we had with the soup to the heavy, sweet olorosos that went perfectly with dessert. Like champagne and tequila, it can only be called sherry if it comes from the Jerez region in Spain ("sherry" is a pitiful Anglicized version of "Jerez") and so Harvey's Bristol Cream (actually my grandmother's drink) counts as authentic, despite the name.
Morcilla (blood sausage) can be unusually hard to find when you need it.
That was a lot of fun. Next I think I'll do a South American-themed dinner. Anyone?