VPIWF Whammy of Umami
Posted by Degan Walters on Tuesday, April 5th, 2011
Tags for this Article: cheese, festival, pairing, sherry, vancouver, VPIWF, Wine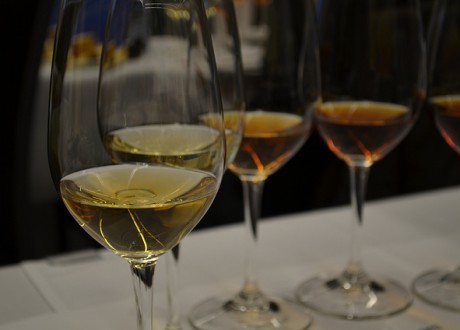 Fortified wines were front and centre at this year's Vancouver Playhouse International Wine Festival and while I sampled some sherry-style wines at the beginning of the week, I wanted to get further into it. Whammy of Umami, a "guided journey to learn the art of pairing these established fortified wines with artisanal cheeses of Spain" from Les Amis du Fromage, seemed perfect.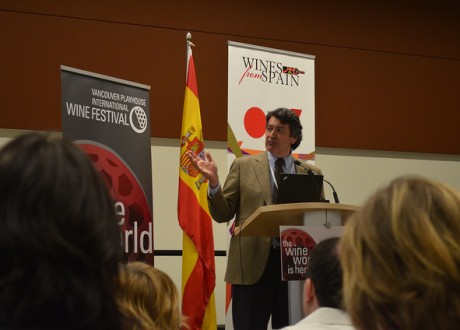 Cesar Saldaña, the Director General of The Regulating Council of Jerez, opened the seminar by saying that there is "no other way to have sherry than with food". He then spent the better part of an hour explaining the history of sherry, the intricacies of the solera system, and the various styles of sherry.
I've been fortunate to have attended several sherry presentations so I was reasonably familiar with this information but I don't think that front-loading what was supposed to be a pairing primer with a lengthy, technical presentation is going to win over many more consumers. For a session that was advertised as "the art of pairing sherry with cheese" there wasn't very much information on how to pair sherry with cheese, or even very much information on the cheeses themselves.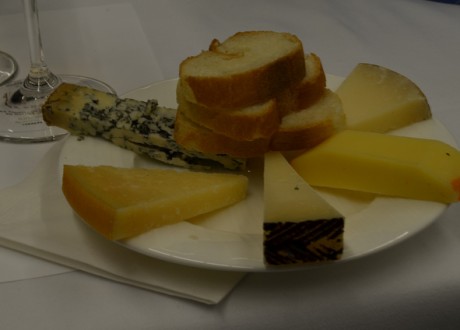 We did get to eat them, however. Spain has been exporting sherry since Roman times but they became a hot commodity in the 1400's due to their ability to travel well and not be affected by the heat. Both sherries (from Jerez) and sherry-style wines (from Montilla) at this event come from the hot south but the cheese was mostly from Northern Spain. This is presumably because sheep and goats (all but one cheese were sheep or goat milk) fare better in the cooler, mountainous regions.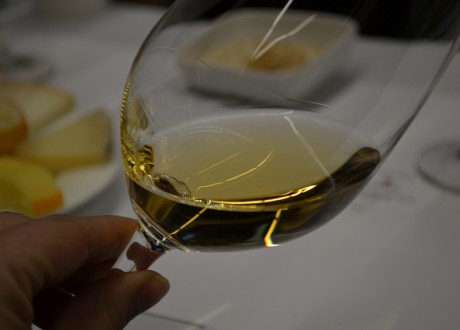 We started with the pale, straw-coloured Lustau – Light Manzanilla Papirusa Solera Reserva. The nose is yeasty and musty while the flavour was all floral on the palate. "Manzanilla" means chamomile in Spanish and this flavour came through as well. It needed a mild cheese and Alison from Les Amis du Fromage recommended the Ibores – a soft white cheese that can be oil-cured or cured with paprika.
The next pairing was a favorite – Tio Pepe Fino (NV) – whose salinity pairs well with oysters and sharper cheeses. The cheese in this case was Garrotxa Bardines, a salty, tangy cheese with a bit of grit. In the 80's there were only a couple of farms producing what has now become a popular farmstead cheese. 
Moving into a the darker band of amber wines was an Alvear Amontillado that I had tasted at the Sabor de Espana! dinner earlier in the week. Amontillado means "in the style of Montilla" where this wine is from and its sweetness (35g of sugar per litre) comes from the Pedro Ximenez grapes. A nutty flavour follows the sweetness and this pairs well with a rich, creamy cheese. Alison chose Mahón for this pairing, the only cow's milk cheese on the plate.
Manchego is probably the most famous Spanish cheese and the pairing with the Nutty Solera Oloroso was excellent. Fortunate, because manchego is readily available and the Nutty Solera can be had at the BCLDB so this is am easy one to re-create. The Nutty Solera sherry stays in the solera system for 6-8 years. Despite its richness, it is a delicate and fresh wine, with notes of orange and nuts.
Palo Cortado Apostoles Rare Old Solera by Gonzalez Byass was up next. This is a VORS (vinum optimus rarum signatum) which basically means it is a very rare old sherry – aged for more than 30 years. After such a long time in barrels, the water evaporates and loses water so the alcohol increases along with the flavour. It has a long finish and will stay on your palate for a long time.  Alison paired this with a basque, sheep milk cheese, Idiazabal. It is a smoked cheese – traditionally smoked by shepherds in their huts and she thought this pairing brought out "everything bad in the cheese" but my partner thought it greatly improved the sherry.
The last pairing was truly a "whammy of umami" – powerful Valdeón Blue cheese paired with the formidable Pedro Ximenez de Anada 2008. Fernando Alvear told us, "it is said that Pedro Ximenez is a dessert wine…I say it is dessert." And this wine, at 260g of sugar per litre is syrupy and sweet. It's made of grapes dried in the sun to become raisins and this comes through in the taste as well as the small. There is also an element of honey and marmalade that  goes very well with the strong flavours of the blue cheese. Valdeón Blue is a salty cheese, half cow and half goat milk, that is aged wrapped in sycamore leaves. A perfect finish.
Now that the festival is over, you can find the cheeses listed here at Les Amis du Fromage, and their restaurant Au Petit Chavignol. Salt Tasting Room has the largest selection of sherries in the city (as well as quite a range of cheese), and Au Petit Chavignol also has a couple of Alvear's wines.