10 Reasons to kick yourself for missing VinoCamp 2009
Posted by Ben Garfinkel on Tuesday, August 25th, 2009
Tags for this Article: booze, cheese, CheeseCampVan09, event, pairings, VCCC09, VinoCamp, VinoCampVan09, Wine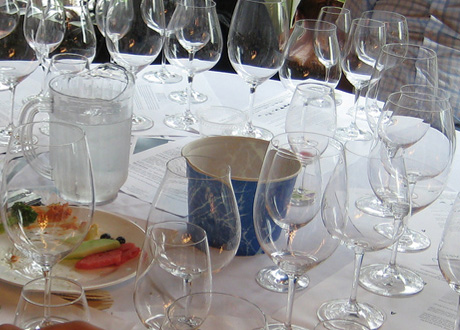 1. It's not just about wine. This year there was a CheeseCamp track too. Yes, real, serious, delicious conversations about cheese.
2. You'd have understood that if you forget your wine country map that's okay. Keynote speaker Dr. Donna Senese of UBC Okanagan shares some interesting insights into wine tourism and civilization including that getting lost is very important to wine tourism because it allows you to make "the find". Oh, and in terms of wine country, the Okanagan has it all. Yes, if you're an aging baby boomer with shitloads of passive income and lots of time on your hands, don't walk, run there and buy a place.
3. Your eyes and pallet would be opened. In a brilliant move to kick off the CheeseCamp track, Anthony Nicalo of Inevitable Table and Farmstead Wines and Sebastien Le Goff of Cibo Trattatoria and Uva Wine Bar have us taste a $25 bottle of wine they refuse to name together with an industrially produced French cheese they did not try to mask (Baby Bon Bell). Their point? To establish a baseline of mediocrity related to processed and manipulated wine and cheese production before getting onto the real tasting that included some amazing pairings of artisenal, farm produced wines and cheeses including what is regarded as the oldest cheese known, Ossau Iraty. Note, the piece we tried was fresh.
4. You get to improve the way you experience cheese and wine. I've always figured red wine was best with cheese. Not so. Well, there's much contradiction, but generally soft and stronger cheeses are better with white and harder cheeses such as Manchego are well matched to red. In fact, sweet and sparkling wines are the most versatile. As in most things food and wine, the balance between acidity of the wine and the cheese is important. Also, in much of Europe the wines and cheeses within each growing region are designed for one another, and are thus most often served together. This is starting to happen here in BC too. Try it.
5. Eat fine, fine cheeses. Young cool  people have taken over. Jonah Benton of Benton Brothers Fine Cheese (located in Kerrisdale) shows us what goes into cheese: Milk, salt and rennet and that's it. Other than the milk type, it's the bacteria, process and aging are differentiating factors giving us thousands of cheeses. Unpasteurized or raw milk cheeses have literally hundreds of bacterial strains, lending a complexity and depth of flavour unmatched by their pasturized brethren that have the bacteria added back in, but only about seven strains. We drank wine and sampled three French beauties: Brie de Meaux and Comté Marcel Petite and a Bleu d'Auvergne.
6. You'll no longer feel sheepish about having a different shaped glass for every type of wine cluttering your cupboard. In an astonishingly revealing demonstration of how the shape and size of a glass can bring out the best in the wine it is designed for, David Sanders of Riedel, blew our minds. So, should you have a different glass for your chardonnay, pinot, merlot, reisling, etc.? The answer is an emphatic yes, unless you hate hand washing 16 crystal wine glasses after a dinner party for four. Those attendees into their wine experience and doing dishes drunk got a fabulous deal: four glass Riedel Vinum XL tasting sets for only $44. Unheard of pricing. Pinot will never be the same.
7. If you liked "Oh Sherry" when Steve Perry sang it, you'll love it with cheese. Well, maybe put on some nice jazz or fado instead, but sherry has really leapfrogged over the image of the old Harvey's Bristol Cream as a terrific accompaniment to cheese. Tio Pepe is a light young sherry we tasted with a Moonstruck Ash Camembert. The Nutty Solera Oloroso, my fave of the tastings and only $16 at the liquor store was paired with gorgeous Manchego picked up from Les Amis du Fromage. Finally, the darkest sherry we tried was the Lustau East India Solera together with a Valdeon Blue. Most interesting factoid we took away was that sherry is produced in what's called a solera system in which sherry is transferred from cask to cask as it ages. Moving from the top barrels in the system through to the bottom where it is eventually poured off to bottles, it's conceivable and altogether likely that the sherry you drink from such a system is, at least in part, as old as the system itself. Thus, you could be drinking 50 year old sherry. Yum. A system like this, though fragile in that it can be ruined in its entirety if substandard ingredients are introduced, will produce extremely consistent product throughout its life. Oh, and sherry doesn't age in the bottle so don't feel guilty about popping the top on that bottle you just bought. Enjoy.
8. You only think you know what you know. The Lightening Talk where we experienced the flavour explosion of a buttered popcorn Jelly Belly after chewing it for seven seconds with our noses plugged was rather jarring. Then we went on to do blindfolded explorations of common essences found in wine. Surprising how challenging some of these were to get. Black peppercorns, prune, smoke, rose water and others. Try it with a friend at home.
9. You won't be shunned for taking photos of your food or looking like you aren't paying attention to the speakers because you're tweeting and blogging. VinoCamp and CheeseCamp are all about social media.
10. More young cool people. Kurtis Kolt of Salt Tasting Room spoke to us about sherry in Reason #7 above. There's certainly something to be said about an event filled with lively, excited and passionate people. VinoCamp and CheeseCamp not only have this in spades, but it's also organized by the same kind of people. Refreshing, fun and time just flew by, and not because I was drunk. So, thanks everyone. Can't wait until next year.
For all the details of wines poured and cheeses served, here's the complete list.
Need more convincing? Check out the photos.