Almond Milk
Posted by Sylvia Zygalo on Tuesday, September 15th, 2009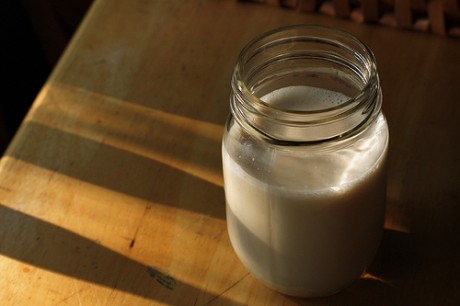 Over the last few years, I have made a gradual transition over from cow milk to nut milk, in an attempt of finding a similar cream consistency that my body could readily absorb. Perhaps it's the imitation of our consumption to milk as human beings, but there was always something eerie to me about drinking animal milk. Psychology aside, cow's milk had also always left me feeling.. well – a bit like a cow.
I started seeking a nut-based milk in which was preferably preservative-free. I wasn't particularly keen on what I was reading in terms of soy & its abundance in estrogen & the harmonal interference that it could possibly cause in women, so my focus shifted solely to store bought almond milk. The first brand to arrive on shelves at our local organic stores was Blue Diamond's Almond Breeze, which I drank for a while, despite not feeling totally satisfied in the purity of their processes (they add Potassium Citrate as a buffering agent & Tricalcium Phosphate as a anti-caking agent).
While researching options for implementing raw foods into my overall diet, I discovered that stores were prohibited from selling raw & all-natural milks of any kind, as they did not meet health standards & regulations. As a result, the milks had to be processed somewhat. While I'm not a purist as I believe that everything is tainted, I knew that making my own almond milk would be the closest to "clean" that I could get. And so with that realization, I did my research & scoured the city looking for "nut bags". Or otherwise known as "cheese cloths".. yea – thanks, Internet. Not always my saving grace, so to speak.
I'm further embarrassed as to how long it's taken me to make something so simple. It's an act of production that turns you away from being a sole consumer & into a producer of your own goods. It's basic, but it's empowering. I began feeling like I no longer had to be at the mercy of a brand. The milk itself is indeed creamy, takes minutes to make  & lasts 5 – 10 days in the fridge (depending on how cold your fridge is). The only factor of hesitation for me was the price tag for 3 cups of organic almonds, (approx. $17) but the value stretches, both in production & health. The quantity also depends on how much additional water you add in relation to how creamy you want your milk to be.
To start, soak 3 cups of organic (raw) almonds in filtered water for a minimum of 4 hours. Soaking the almonds removes the enzyme inhibitors, making the nuts more digestible & nutritious. As an added benefit, soaking them makes for better blending & frothing of the milk.
To make the milk, first drain & wash the almonds. You will need the cheese cloth ($5 at Whole Foods), a blender & a bowl. Blend one cup of almonds at a time for better handling.
1 cup of almonds + 3 cups of filtered water. Blend on high speed for 3 minutes
Cover bowl over with the cheese cloth & slowly pour the almond milk through, squeezing the milk out as you raise the cloth.
I prefer mine to be sans sugar all together, but you can sweeten it by throwing in a few dates, a drizzle of honey or a few drops of stevia extract. I use this milk primarily with my apple hemp shakes in the morning & as a soup base as an alternative to broth. I'm yet to experiment in baking with it, but it slides in well as an alternative to any other milk for granola, pancakes or just for as a pairing for your classic concoction of cookies & milk.