The Temporary Vegetarian and The Vegan Mac'n'Cheese
Posted by Pailin Chongchitnant on Friday, November 6th, 2009
Tags for this Article: cashews, kids, mac'n'cheese, Pasta, vegan, Vegetarian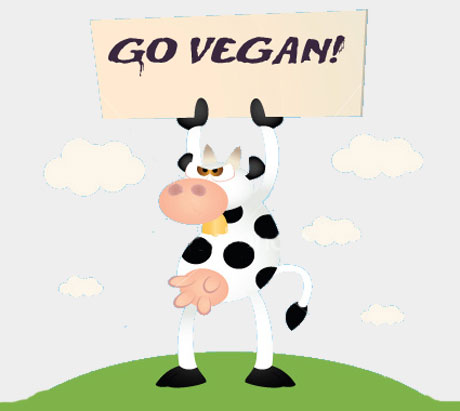 Six weeks ago, I stopped eating meat. Well…until today. As you may know, I am a culinary school student, and 6 weeks ago we started a class that teaches the art of vegetarian, vegan and alternative cuisines such as gluten free cooking and the likes. I got the challenge bug and decided to become vegetarian for the duration of the class so that I would be completely immersed in the educational experience. I figured that if I wanted to know how to cook for a vegetarian, then it would be good to know what it's like to be a vegetarian. Today is my last day, so I thought I would share with you a glimpse of my experience and a recipe I learned along the way.
Immediately on day one I noticed that being a vegetarian forced me to think about what I was eating. When you can eat everything, you often forget to think about what's in it because you have nothing to worry about. But when you have food taboos, whether it be vegetarianism, allergies, religious restriction, or other reasons, you have to think about what it is you are putting in your mouth. That made me more aware of the healthfulness of my diet simply because I took notice of the ingredients on my plate.  The possibility of not getting enough protein, iron, zinc and B12 also kept me on my toes when choosing food.
Ordering food at restaurants became really easy, because your choices are cut down by at least 75 percent, which made me feel somewhat discriminated even though I understand the supply-demand relationship there.  Although from the choices that did exist, I felt many of them were shoved onto the menu just so there is something there (I swear if I see another butternut squash ravioli or veggie burger…). Many restaurants forget that spending more time and effort in creating exquisite vegetarian menu items would only increase their clientele and make them happier. There is nothing to lose, only to gain, so I don't quite understand why that's not the case in reality.
As I cooked more and more, I also realized how creative it forced me to be. Normally I would plan my menu around the protein.  My thought process would be something like this: What protein do I have in the fridge? What flavors do I have in my pantry that would go well with that? And what vegetables and starch would work with it? Having no protein to begin with threw me off my center. I would find myself standing in the produce section at the store amongst the vegetables, and trying hard to visualize a dish that doesn't look like a bunch of side dishes put together.
During this class, my favorite day was vegan day. Our chef instructor, a lovely Indian lady who has been a vegetarian all her life, pulled out a recipe and asked if anyone was interested in making a vegan mac'n'cheese. I was intrigued by the concept so I volunteered. I skimmed the ingredient list and saw "1 cup of cashews".  "Cashews?" I thought, perplexed. I expected to see things like soy cheese and soy milk in the ingredient list, but none.  In fact, there was no soy product on it whatsoever (as a side note, I also learned through this class that food science has allowed soy to be astonishingly transformed to imitate any meat or dairy product…I'm not so sure how to feel about that.)
As it turned out, one was to make a puree of cashew nuts to create the creaminess of cheese and milk.  Nutritional yeast, a flaky product used to give umami flavor in vegan dishes, was also added.  I was suspicious, but proceeded nonetheless.
The result was wonderful beyond expectation. It was savory, creamy, ironically cheesy, and enjoyed without guilt. As I delighted in my success, I had a sudden realization: Many cooks are often stuck within the frame of tradition when it comes to utilizing ingredients, i.e. apples = pie, squash = roast, nuts = salad toppings, etc.  But if you study an ingredient and explore its potential, you will find a plethora of other ways you can play with it. Hey, I sure never thought of cashews as a cheese sauce substitute! And I'm not talking about vegetarian or vegan cuisine at this point, I'm talking about all cooking, all ingredients.
This is a basic Mac'n'Cheese recipe that I am sharing with you as a canvas for your culinary minds. What would you add to it to make it interesting?  I made one with corn in it, but how about black beans?  Or adding edamame to the puree for a green Mac'n'Cheese? Roasted red peppers? Some spicy Sriracha? Go Nuts!
Vegan Mac'n'Cheese
8 oz elbow macaroni
1 onion, chopped
1 cup cashews, untoasted
1 1/3 cup water
1/ 3 cup canola oil
Juice of 1 lemon
3 Tbsp nutritional yeast
1 tsp garlic powder
1 tsp salt
For Panko Topping
2 Tbsp olive oil
1 ½ cups panko
½  tsp paprika
Directions
1)      Cook macaroni in boiling salted water (this is not a pinch of salt, it should taste like the ocean). Drain, run cold water through it and set aside.
2)      In a food processor, process cashews while slowly pouring in water and canola oil until smooth and creamy.  This should be a consistency of a thick chowder.
3)      Add lemon juice, nutritional yeast and garlic powder. Add salt, ½ tsp at a time, adjusting to your liking. I suggest adding lemon before salt because acid enhances salt, so if you add the salt first, the acid might bring it out to the point of over saltiness.
4)      Make the panko topping by heating the olive oil in a pan and tossing in the panko and paprika. Stir constantly until golden brown. Set aside.
5)      Saute the onions in a little oil until they start to brown slightly, add cashew puree and cook, stirring, until it starts to bubble. Add macaroni and stir well to combine. Pour into a serving dish and top with panko.