Contest: Green eggs and no ham
Posted by Ben Garfinkel on Monday, December 7th, 2009
Tags for this Article: contest, cookbook, moosewood restaurant, vegan, Vegetarian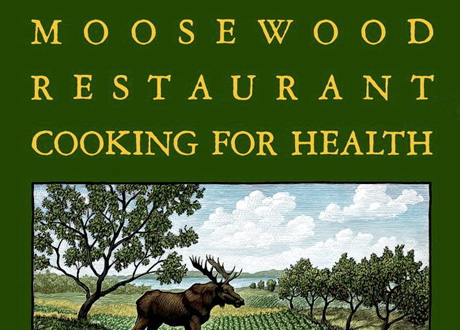 With vegetarianism practically a sacrilege amongst our collective (don't even mention it in front of some), and vegan being the dirtiest five-letter word around these parts, it might seem odd that we're talking about a book on the topic.
Indeed, the cover just makes me crave another bowl of Moose Stew. I'm exaggerating a little here. I actually don't mind not having meat seven days week. It's probably better not to, and I'd much rather have better, organic and sustainable meat less often than junk every night. But what to cook on those non-meat nights, or for the very rare guest that we'll let come over even though we know they are vegan (basically, we have to because she's related)?
Well, what's the real problem with vegetarian dishes anyway? For me, often it's that they lack depth and complexity of flavour or compromised texture. Not always though. It's usually when something vegetal is being passed off as something from the animal kingdom. Vegetarian and whole foods cooking that celebrates itself can often be quite surprisingly good–as a side dish (kidding!).
Enter Moosewood Restaurant, a collective of 19 members who share responsibilities and have grown this small natural foods restaurant into a greater concern. And hey, if they've been the recipients of three James Beard Awards they must know a thing or two about coaxing flavour out of a zucchini or eggs sans ham.
Moosewood Restaurant, Cooking for Health is their twelfth book, with carefully crafted recipes that celebrate local and environmentally sustainable food and that reflect the latest thinking on good nutrition.
I'm going to set aside a few prejudices and try out some of the 200 receipes on offer. We'll see what my vegan sister-in-law has to say too. In the meantime, we've a copy to give away courtesy of the publisher. Simply comment with your favourite vegan or vegetarian recipe that doesn't taste vegan or vegetarian. Or, to throw a twist into this, a meat recipe that you can't tell has meat in it! We'll pick a winner at random just before the great xmas turkey/tofurky carve up.