There is a God.
Posted by Jer Thorp on Thursday, August 9th, 2007
Tags for this Article: bacon, homemade-bacon, pork, yum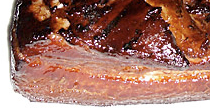 Dave Seldon is a do-it-yourself kind of guy. The Head Brewer at BS Brewing, a Portland-based collective of home-brewers has made his own beer for years, is handy with tools, and grows his own food. So, what's next for a guy who's made it all? Home-brew bacon. Yes, it is possible that this is the best idea, ever. All you need is a smoker, a fridge, a slab of pork belly, and some seasoning. Though it seems almost too good to be true, Dave has a great post over on his blog that documents the entire, very real process. Dave, I think I speak for all of us over here in the kitchen when I say thank you. Thank you. Thank you.