Scotch and Chocolate, Oh My
Posted by Degan Walters on Tuesday, November 10th, 2009
Tags for this Article: alcohol, cacao, chocolate, festival, liquor, pairing, Scotch, single malt, vancouver, wccf, wccf09, whiskey, whisky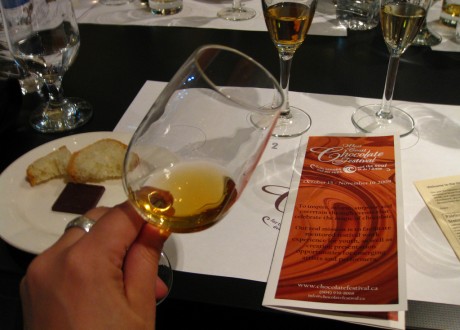 I have a confession to make. I don't like chocolate all that much. I don't hate it and I've certainly been known to have a square of cacao or two with my espresso, but the excitement of going to a chocolate festival is kind of lost on me.  That is until someone uttered the magic word and invited me to the Scotch and Chocolate Pairing at the West Coast Chocolate Festival.
Whiskey, especially scotch, is my drink of choice and the chance to taste some good ones in a different way was too good to pass up. Plus, our own Eagranie Yuh was going to be speaking and dishing out her chocolatey expertise.
After a video on scotch-making (interjected with the hilarious, "is there a Scottish translator in the room?") the first pairing was a Finlaggan Old Reserve with Amano Ocumare chocolate. Like any tasting, this was a mellow start, with a bit of smoke in the whiskey and smokey, raisin-ish notes reflected in the chocolate. In spite of the matching smoke, I didn't think these paired particularly well, but Eagranie described it as a "late August heatwave" feeling and I can get behind that.  I enjoyed both, at any rate.
There was a bit of a mix up with the order of whiskies, but once that was sorted, next up was a 40% Ileach Islay, accompanied with XOXO's blueberry bit chocolate. This was a great scotch which I hadn't had before and I was loving it even without the blueberry chocolate, but perhaps that's not all that surprising.
Then things got interesting when Laphroaig went up against not one but two chocolate squares; Pralus and Cluizel. Laphroaig is a serious whiskey; all salt and peat and smoke. When I first had it, I told my dad that I felt like I was eating a campfire. Which would be perfect with chocolate if only there were marshmallows so we could have smores.  But no, the chocolate in this case didn't back down either. Cluizel is 99% cacao and Pralus is 100%. And while it was interesting to note how much can change in a single percent, the bitter, strong flavours matched the whiskey sip for bite.
The final pairing was with another Islay I hadn't had before – the same Ileach Islay as before, but 58% in this case instead of 40% – and Karlo's Private Blend chocolate. The Ileach has been called the 2nd best scotch in the world, according to Jim Murray's Whisky Bible and with good reason. This is a beautiful scotch. The distiller has only added 2% water to this one, so the flavours really come through. Honey was noticeable in both the whiskey and the chocolate, although I thought I was hitting my limit for chocolate at this point.
That is, until the "surprise" chocolate was unveiled. A square of chocolate with black truffle shavings on top. It smelled nutty and earthy and I wanted to inhale it but it tasted even better and as I basked in the headiness of so much whisky and chocolate, I only wished there was a scotch to balance it.