Scotch & Chocolate at the West Coast Chocolate Festival
Posted by Cliff Hammerschmidt on Wednesday, October 20th, 2010
I like scotch. I like chocolate. But the idea of mixing the smokey, peaty and sometimes rough flavours of scotch with the silky, sweet, luscious, and sometimes bitter flavours of chocolate seems almost criminal. That was my initial reaction when I first heard about the pairing concept, but part of being a Foodist is having an open mind to new food experiences. After checking with "What to Drink with What You Eat" (a book about  recommended beverages for food, and vice versa), I was surprised to find "dark chocolate" listed with scotch. Maybe the idea is not that crazy after all.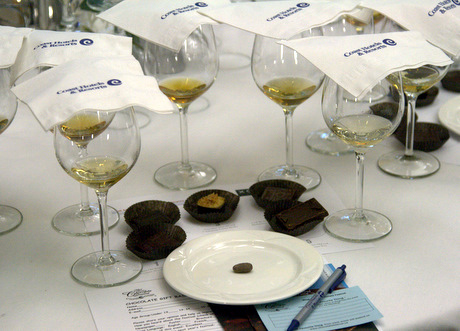 The West Coast Chocolate Festival certainly did not think it was crazy. At 7pm on October 16, 2010 at the New Coast Coal Harbour Hotel, they set out to show just how well chocolate and scotch can go together by presenting six different pairings. They also provided appetizers, a video about scotch, and desserts (chocolate ones of course), but I'll cut to the chase: how well can this combination possibly work?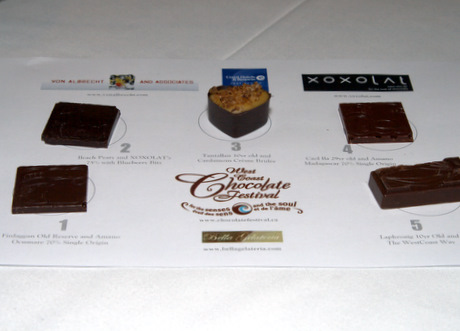 Finlaggan Old Reserve & Amano Ocumare 70% Venezuela Single Origin
The Finlaggan is one of the most approachable scotches I've tried. Smokey on the nose, but much less so on the palate, and exhibiting a pleasant sweetness. If you think you don't like scotch this one might change your mind.
The Amano Ocumare chocolate and the Finlaggan got along well enough. Surprisingly the 70% chocolate seems sweeter with the scotch.
Ileach Peaty & Xoxolat 71% Forastero with Blueberry Bits
Obviously smelling of peat, the Ileach is less smokey than the Finlaggan, and oily on the nose. The palate shows some fruit and nicely pairs with the hints of blueberry in the chocolate.
Tantallan 10yr & Cardamom Crème Brulée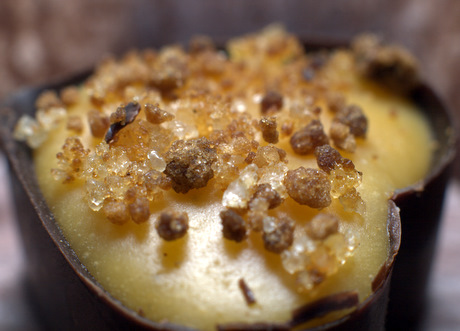 This is why I drink scotch. A beautiful blend of smoke and butterscotch on the nose. Creamy and spicy on the palate, and perfectly matched with the cardamom crème brulée chocolate. Heavenly. I liked the Tantallan so much that I've already purchased a bottle.
Caol Ila 29yr & Amano Madagascar 70% Single Origin
Old scotches have a similar vein running through them: they cost too much. I highly recommend trying them at events like this rather than buying them blind. I've had a few, and this 29 year old still has bite, making it one of the better ones, but still not my style. (Many others at the event liked it the best.) The Amano Madagascar, despite being the same percentage as the earlier Venezuelan single origin, tastes more like you'd expect such a high percentage chocolate to be: smooth with bitter notes, standing up well to the scotch.
Laphroaig 10yr & The West Cost Way (Triple Smoked Maple Caramelized Bacon, Espresso, Dark Milk Chocolate)
Laphroaig is rather famous for being the complete opposite of an approachable scotch. You'll love it or hate it, and generally agree that it is strong stuff. What better chocolate could there be to pair it with than the love-it-or-hate-it combination of bacon and chocolate.
Bella Gelateria – Mangaro Plantation Couverture w/ Single Malt Scotch (Ileach Peaty "Case Strength" 58%)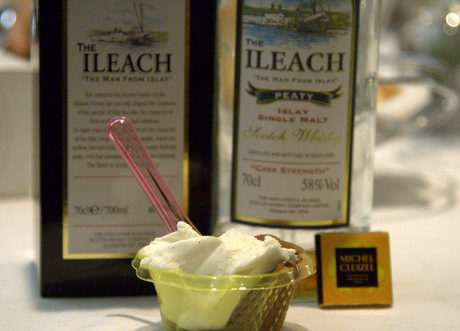 James Coleridge, the gelato maker and owner of Bella Gelateria, spent days creating the perfect mixture of chocolate and scotch in gelato form. This very tasty gelato proves that chocolate and scotch can compliment each other perfectly when you take the time to select the right chocolate to go with the scotch.
So yes, scotch and chocolate can get along, but don't expect inexpensive and lower percentage chocolate or milk chocolate to hold up well. Carefully selecting premium, typically single origin, chocolate with lots of character to match the scotch is vital to the success of the pairing.
The West Coast Chocolate Festival continues until November 10. For more information see their website at http://chocolatefestival.ca.