Cutter Ranch Lamb – the first taste
Posted by Matt SamyciaWood on Friday, November 20th, 2009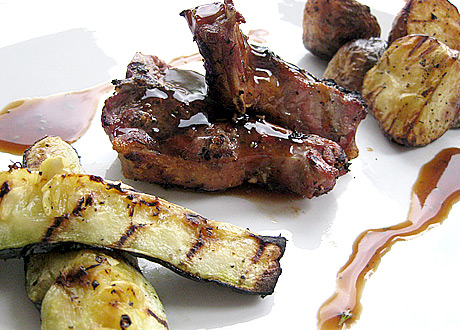 After filling my freezer with my recent lamb delivery from Cutter Ranch it came time to cook my first meal. Kept it real simple. Tossed the lamb, potatoes and zucchini in oil and fresh Rosemary and let marinate for several hours. Fired up the BBQ/grill and cooked to perfection. Added a little Rosemary gravy and sea salt and we were good to go.
After the first mouthful (during which, time halted to a mouth watering foodgastic standstill), my wife said "now this is what lamb should taste like". Sad in a way that we have got use to 'generic' meat from the supermarket, but appreciative of the quality, organic, grain fed lamb that we now have.
Cutter Ranch are now taking orders for next year. We will be for sure be ordering more.