A little bit of lamb
Posted by Ben Garfinkel on Monday, May 31st, 2010
Tags for this Article: 100 mile diet, angus, arugula, butchers of gastown, lamb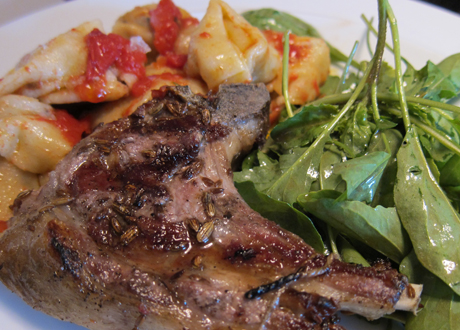 Evan got the shanks, but we all left the Butchers of Gastown 2 with a little bit of lamb to cook up for ourselves. It actually only took me two days to recover from the lamb overdose that was our day of cutting and cooking. That is, if there's even a such thing as a lamb overdose.
I had three marinated chops and enough of our handmade lamb-stuffed tortelloni for a meal. The chops were easy: grill on high heat until medium rare. I figured that while I had the grill on I might as well toss on some local whole tomatoes (more on that later).
For the tortelloni I made a rosemary and garlic infused olive oil and added a pinch of chili flakes for some kick. Once infused, I removed the rosemary and garlic then roughly chopped the grilled tomatoes and added them to the oil. Then, I tossed in the almost done tortelloni, added a pinch of pepper and some Maldon salt and let simmer long enough to break down the tomatoes and finish cooking the pasta. Finally, a little fresh grated parmesan!
Finally, I sautéed a bunch of our freshly harvested arugula in a little butter, garlic, lemon and salt. Dinner: local, sustainable and done in under 30 minutes. Can't beat that!