Urbanbelly: Communal Dining in Chicago
Posted by Helen Fernandes on Sunday, November 22nd, 2009
Tags for this Article: asian, Chicago, dumplings, Korean, lamb, neighbourhood eats, Urbanbelly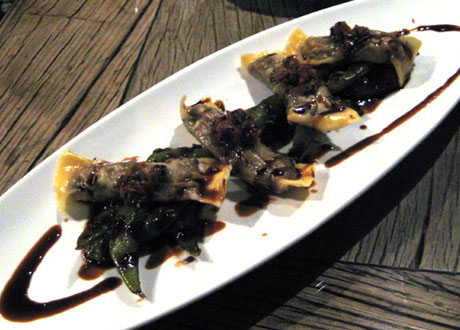 In a quiet unassuming neighborhood lies an equally unassuming restaurant. Nestled in a small strip mall between a laundry mat and a cleaners lies Urbanbelly, one of my favorite restaurants in Chicago. It is a small jewel among many hidden away in various parts of Chicago. There is no fancy neon sign to indicate it is there and at night you could drive right by…and we have! Like I said; unassuming.
I am quite sure that is how the owner, Bill Kim wanted it. He lets the food speak for itself and boy does it! It doesn't just speak, it screams at the top of its lungs! Flavors so intricate and surprising they make your taste buds dance in unison. Even though Kim spent time under Charlie Trotter and after two years became his sous chef, he seems the polar opposite. A quiet man all about the food and those who eat it and who at times, when the restaurant in busy will serve and clear the tables himself.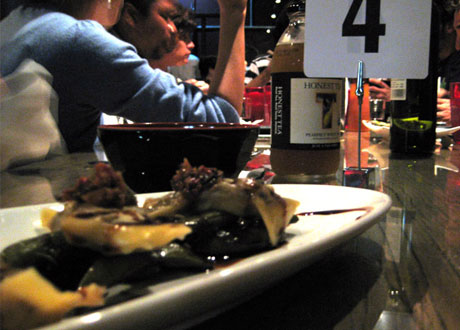 After his time with Trotter, Kim spent time in Asia, which is reflected in the design of the space itself. The seating is communal in this smallish restaurant with the idea that food should bring people, especially strangers, together.  This BYOB establishment offers the best in modern Korean fare.
On this outing we had the lamb and brandy dumplings, duck dumplings, Kim's famous short ribs on fried rice and a feature egg drop soup with rice cakes, shrimp and other yummy goodness. The lamb and brandy dumpling were fantastic. Formed into little rectangular packages or "presents" as I would prefer to call them; they are plated on a blanket of edamame cooked just right. Drizzled over top is a sun dried tomato, garlic and brandy reduction and crowning each one is a sundried tomato, garlic compote. The unexpected surprise lies in the cumin seeds that Kim sprinkles sparingly on top – beautiful. Given my roots I can't help but think this dish to be a deconstructed Indian meal: lamb, starch, sauce with tomato and cumin. The flavours complement each other as though they should never be separate. No flavour over powers the other. The lamb inside each dumpling is cooked to perfection. The casing is thin enough to see the lamb but not thin enough to tear and not at all doughy. These were the highlight of the evening so we took an order home.
We would be here all day if I were to go into each dish, which I could as they are all deserving. Suffice it to say we have the duck dumplings and short ribs each time we go, these are staples for us. It looks like we will be adding the lamb and brandy dumplings to the repertoire.