La Stella & Le Vieux Pin in 2009
Posted by Sylvia Zygalo on Friday, November 27th, 2009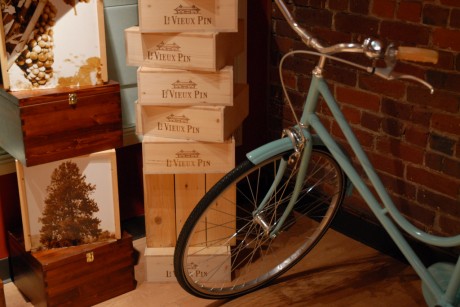 Photos Courtesy of Degan Beley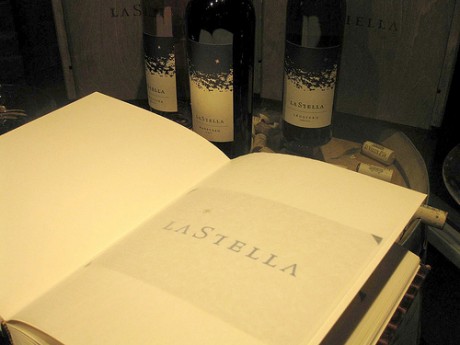 La Stella & Le Vieux Pin, the sister wineries to the mother of Enotecca Winery & Resorts, are both situated in the Okanagan region of British Columbia. Through meticulous methods of viticulture, their processes in production have progressed by way of blending both a traditional winemaking style with techniques used in consideration of the region in which their grapes yield to.
Back in August of this year, I had my first taste of La Stella at an open house event held in Yaletown. While sipping away & swaying slightly, I realized suddenly that the weakness in my knees was not the result of intoxication, but rather the culmination of a developing crush for their wines. & with my mood melting in with the music of both the on-site cellist & violinist, it was easy to see how my senses were swayed. In all, my best-loved bottle of the night was the 2006 Maestoso Merlot.
I was invited out to but unfortunately missed the harvest season for both these wineries, but will be staying at La Stella & visiting Le Vieux Pin for New Year's Eve & until the first few days of January. In the meantime, I received a recap in development details for both La Stella & Le Vieux Pin for 2009 that I wanted to share with you here.
La Stella
increased the use of larger format barrels (400-500 & 1000 litre puncheons) for the aging of the reds (in accordance with Italian & especially, Tuscan winemaking traditions)
increased the use of non-French oak barrels. We now have a healthy number of Eastern European, Hungarian & Slovenian oak barrels for aging our reds (again, in accordance with the Tuscan wines)
first time that we (or anyone in the Okanagan) is doing a Moscato d'Asti style wine from the Moscato Bianco (with small amounts of Ottonel & Orange Muscat). This wine will be slightly frizzante, with a lower alcohol percentage (around 10% or under) & just off-dry
harvested Sangiovesse (both Grosso & Piccolo clone) from two separate vineyards. Fermentation finished & the resulting wine looks promising
made an unoaked Chardonnay excusively from the oldest Chardonnay vines planted in the Okanagan, which were planted by a previous grower & has been in the hands of the Olivier Combret family since 1991. We leased the entire lot of the old vine Chardonnay planted on the complex soils of his vineyard in the upper parts of the Golden Mile. Some schist & shale have been noticed in the soil there (exciting soil component that is rare in our region)
first release of a non-single grape varietal wine from either of our two wineriesto date: 2007 Fortissimo: an Okanagan red blend that is inspired by the super Tuscans. Merlot, Cab, Cab Franc (in future vintages to have Sangiovesse) fermented & aged according to the Tuscan tradition
Le Vieux Pin
made two styles of Chardonnay exclusively from the oldest Chardonnay vines planted in the Okanagan, which were planted by a previous grower & have been in the hands of the Olivier Combret family since 1991. We bought the entire lot off the old vine Chardonnay planted on the complex soils of his vineyard in the upper parts of the Golden Mile. Some schist & shale have been noticed in the soil there (exciting soil component that is rare in our region). One was picked much earlier & fermented ala Chablis, while the other batch was more southern 

Côte

–

d'Or

inspired with barrel ferment; malolactic & aging in barrel
significant & huge news is that in 2009 we did not make any Pinot Noir & made only very small amounts of Merlot that might not even be released as a single varietal & instead, go into a blend of our second label: Petit Le Vieux Pin. We still did thirty cases amount of Cab Franc, but our focus was & probably in the future will be on one grape: Syrah or Shiraz
we received Syrah from seven different vineyards, fermented & aging separately. This is the first time, we believe, that this has been done in the Okanagan. We have fruit from places like Cawston to various vineyards in Osoyoos, Golden Mile, Black Sage Bench & north of Oliver. We received Syrah from many different clones, soil types, exposures & elevations. All the yields across the line were three tons per acre or less with many of them around or even under one ton an acre. All premium Syrah's. If all goes well, we're going to have some high quality wines from this vintage for release
we harvested & fermented small amounts of Mourvedre from two different vineyards
we harvested & fermented a healthy batch of Roussanne all by itself and it's looking very interesting & promising already. Again, we think that no one in the Okanagan has done Roussanne by itself in the past. We know wines that have had Roussanne as part of the blend, but not on its own
for the first time, we experimented with fermenting in acacia barrels. We find that this wood type gives the wine honey, elder flower & unique, hard to pin point spices. We did two batches in acacia: one Sauvignon Blanc & the other a Viognier
basically, we are now going to focus more on one or two grape varieties but do an outstanding job at them. We believe the Syrah from the South Okanagan has huge potential but only when it's planted on the right site & harvested at low yields. It can otherwise make for an inferior & boring wine, unlike grapes like Merlot, which seem to fair well regardless of site & yields