Le Vieux Pin Goes to Market
Posted by Degan Walters on Monday, June 7th, 2010
Tags for this Article: dinner, market, Okanagan, pairing, Wine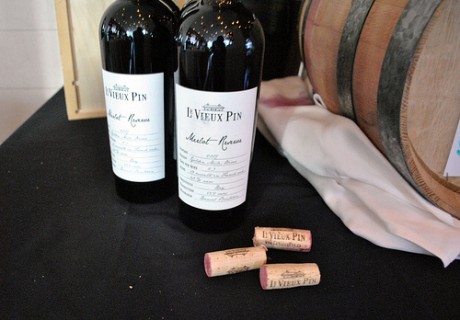 Market at Shangri-la's first winemaker's dinner saw French-styled Okanagan favorite Le Vieux Pin – including an inaugural sip of a syrah/viognier blend from the barrel – paired with some delectable Jean-Georges dishes. First up was the '09 Vaila Pinto Noir Rosé, pale pink like it's meant to be, with a vegetal, tomato-leaf nose and a delicate apple taste on the palate. It was paired spectacularly with a cup of egg caviar custard, served in the shell. Light and creamy and salty, it met the acidity of the wine with delicate grace.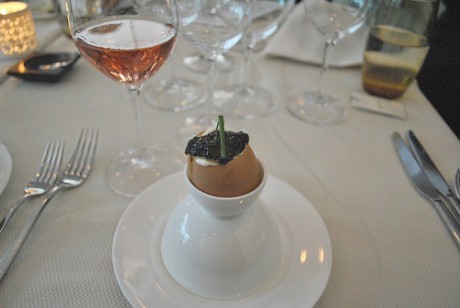 The next wine was an '09 Sauvignon Blanc with bacon wrapped shrimp in a passion fruit mustard and cumin honey sauce. This is a pairing anticipating summer, with it's grassy, fruity notes.  I wasn't fond of this wine or the fruity, spicy seafood, but the next dish – homemade gnocchi with morels, black pepper and olive oil is more to my taste anyways. Sultry, earthy and rich with a little bit of heat from the pepper, the aforementioned '08 barrel sample of syrah/viognier stood up to the challenge with a little bit of spice of its own. It's meant to be "equal parts day and night…part syrah and part shiraz" and its dual nature is reflected in the give and take, the push and pull of pepper and lift. Paired with the morels, it was exquisite.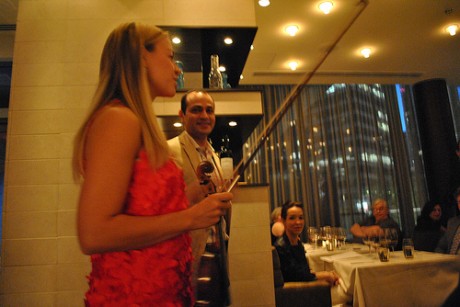 Next up was an '07 'Epoque' Merlot and an '08 'Apogee' Merlot. The dinner was created because of the Apogee Merlot…Jean-Georges was "blown away" when he tried the 2006 Merlot. The '07 is tannic and mouthful with some spice. Compared with the Epoque merlot, it's higher yield and comes from higher ground, resulting in a smoother finish.
For dessert there was a special treat – Lady Jane double cream cheese with fresh strawberries and 100 year old balsamic vinegar, '09 Moscato d'Osoyoos from Le Vieux Pin's sister winery LaStella and a musical accompaniment from a VSO violinist. LaStella believes that wine moves people in the same way that music does and so they have named their wines after musical movements.
An upcoming wine dinner at Yew Restaurant, this coming Wednesday (June 9th) will pair wine, food and music by the same violinist. Tickets are $90 and available by contacting the restaurant directly.