Stilton & Bacon Cheesecake
Posted by Alexa Clark on Tuesday, December 1st, 2009
Tags for this Article: Appetizers, bacon, cheese, recipe, stilton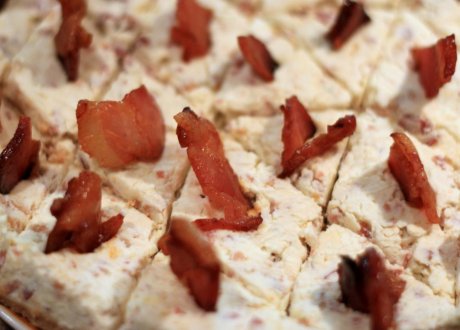 Recently, a friend invited me to a bacon-themed potluck which he dubbed Baconstraveganza.
My contribution was a Stilton & Bacon Cheesecake from a recipe I found on Saveur.com.  I garnished it with a Spiced Candied Bacon just to up the bacon quotient and to add a little sweet to this savoury cheesecake.
It turned out to be rich and flavourful, and a huge hit with the crowd.  But definitely something you want to eat in small portions since the flavours were overwhelming.  Personally, I was a little disappointed that the bacon flavour wasn't more prevalent, especially for this event.
Stilton & Bacon Cheesecake
The recipe for these savory cheesecakes came from Linda Ellerbee's book Take Big Bites (Putnam, 2005); she adapted it from a recipe given to her by the chef at the George Hotel in Wallingford, England.
Ingredients:
4 tbsp. butter
1 cup finely crushed digestive biscuits or graham crackers
6 strips bacon, finely diced
8 oz. cream cheese, softened
4 oz. stilton, softened
For Crust:
Grease six 2″ × 2″ ring molds with 1 tbsp. of the butter; set molds on a cookie sheet.
Cook bacon until crisp.  Reserve for filling.
Transfer 3 tbsp. rendered bacon grease to a small bowl. (if you don't have enough, add melted butter to produce 3 tbsp.)
Add biscuit crumbs and mix well.
Put equal amounts of the crumb mixture into prepared molds, firmly pressing on crumbs to form an even crust at base of molds.
Chill crusts in the refrigerator for 1 hour.
For Filling:
Mix cheeses together in a medium bowl.
Add bacon and stir well.
Pack equal amounts of the filling into molds, smoothing tops with the back of a small warm metal spoon.
Cover cheesecakes with plastic wrap and chill in the refrigerator for at least 3 hours and up to overnight.
Serving
Run a small knife around inside of molds and slide cheesecakes onto six plates, crust side down.
Serve cheesecakes at room temperature, garnished with a piece of bacon, with lettuces and fruit chutney on the side.