Gluten-Free Lemon Meringue Pie
Posted by Jackie Connelly on Saturday, May 28th, 2011
Tags for this Article: baking, gluten free, Jackie Connelly, pie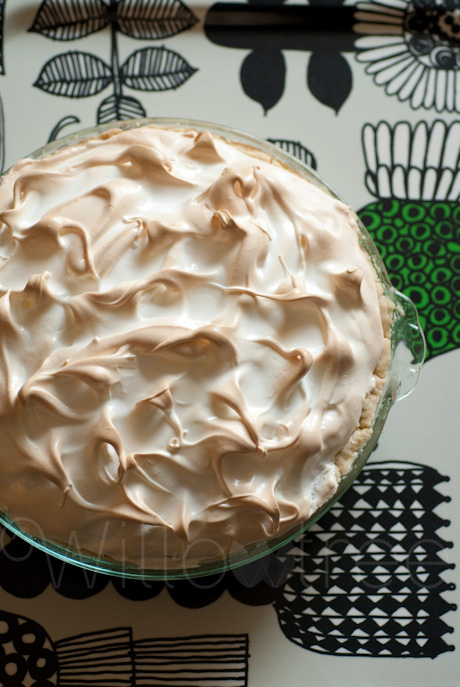 This was our first attempt at a lemon meringue pie and seriously, it was so exciting! Tina's husband parked himself in front of the oven window in anticipation of our creation and he was delighted with the result (as we all were). One piece of advice: leave some for the next day. There's something about the chill from the fridge that makes this pie even better on day 2.
We know the instructions below seem daunting, but trust us when we say all your hard work will pay off in the first bite. Also, this gluten free pie crust is great for any pie, so make sure you keep this one in your recipe folder.
Cook Time: 2 hours (including 1 hour for pie dough to cool)
Makes: one gorgeous 9″ pie
*Make sure to follow the methods below in their numbered order (pie crust, then syrup, then filling, finishing with meringue); don't be scared…you can do this!
1. Pie Crust Ingredients:
1 cup fine brown rice flour
1/2 cup cornstarch
1/4 cup amaranth flour
1/4 cup white rice flour
1 tbsp cane sugar
1/4 tsp xanthan gum
1/4 tsp salt
1 tbsp ice water
1 large, lightly beaten egg
¾ cup coconut oil, in it's hardened form, room temperature
Pie Crust Method: *in a food processor using a metal blade
Measure dry ingredients into a large mixing bowl. Use a whisk to thoroughly blend ingredients. Pour the dry ingredients into a food processor bowl.
Add the room temperature coconut oil and pulse until the hardened oil is completely combined with the dry mixture.
Add the lightly beaten egg and pulse just until egg is incorporated into the mixture.
Add 1 tablespoon of ice water and pulse several times. Remove the processor lid and squeeze a small amount of the dough in your hand. If it holds together don't add more water. If the dough is too crumbly and dry, add 1/4 tsp additional ice water and pulse several more times. Scrape the dough on to a clean, gluten free work surface covered with waxed paper. Gather the dough into a ball. Flatten to a large disk shape. Wrap in waxed paper and refrigerate for at least one hour before rolling out the dough. If you wish, the dough can be frozen for future use.
After an hour, remove dough from refrigerator. With dough between two sheets of waxed paper let it sit just until it's soft enough to roll. When workable, roll dough lightly from the center outward to make a circle about 10-inches in diameter and about 1/8-inch thick. If the dough should get too warm and sticky, place it in the freezer for several minutes and then continue rolling it.
Preheat oven to 350°.
Peel the top sheet of wax paper from the dough and carefully flip the dough, on the remaining sheet of waxed paper, over pie plate. Gently peel the waxed paper from the dough. Gently press the dough into the pie plate. Trim edges with knife and gently pinch edges with your fingers to form a scalloped look.
The crust is now ready to par bake (partially bake). Use a fork to pierce the crust – this will prevent it from bubbling while baking. Place crust in the oven and bake for about 15 minutes, or until lightly golden.
While this is baking make the mint syrup.
Once the crust is ready, put aside until filling is ready.
Turn oven heat down to 325°.
2. Mint Syrup:
1 cup sugar
1 cup water
½ cup fresh mint, finely chopped
Syrup Method:
Combine all ingredients in a small saucepan and bring to a boil.
Once boiled, reduce heat and let simmer for 2 minutes. Remove from heat and strain out solids. Refrigerate syrup.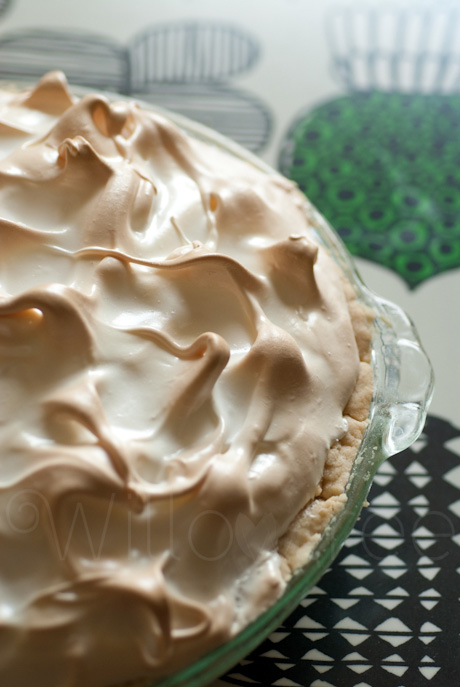 3. Lemon Filling Ingredients:
1 cup white sugar
4 tsp cornstarch
2/3 cup lemon juice
4 eggs
3 tbsp mint syrup
Filling Method:
In a medium saucepan over no heat whisk sugar and cornstarch together until all lumps are dissolved.
Gradually whisk in lemon juice. Add eggs 1 at a time, whisking to blend well after each addition.
Turn heat on under saucepan to medium. Add 3 tbsp of your mint syrup and whisk mixture constantly until filling thickens and boils. Remove from heat.
Pour filling into prepared crust.
4. Meringue Ingredients:
6 egg whites, room temperature
¼ tsp cream of tartar
¼ tsp course salt
1 cup finely granulated sugar
Meringue Method:
Using an electric mixer, beat egg whites, cream of tartar, ½ tbsp of mint syrup and coarse salt in large bowl until frothy, about 30 seconds.
With mixer running, gradually blend in sugar. Continue beating until stiff, about 5 minutes.
Spread meringue over filling, sealing meringue to the edge of the crust. Using a spatula, form magnificent peaks in the meringue by inserting the spatula vertically into the meringue and pulling it straight out.
Bake pie until meringue is golden brown, about 30 minutes.
Cool pie completely.  Serve chilled.
Boom! Best gluten-free pie ever!
~ written for Willowtree and shared on Foodists