NYC Cheap Eats: East Village Edition
Posted by Laura Siciliano-Rosen on Tuesday, December 8th, 2009
Tags for this Article: Bibim-Bar, Caracas Arepas Bar, Crif Dogs, East Village, Ippudo NY, Katz's Delicatessen, Luke's Lobster Roll, Manhattan, Momofuku Milk Bar, New York City, Nino's Pizza, Ramen Setagaya, Travel, Tuck Shop, Veselka, Wechsler's Currywurst & Bratwurst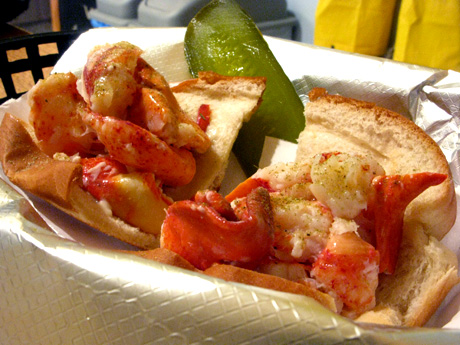 As one of your New York contributors, I thought it might be useful to highlight some of New York City's best cheap eats. Heavens knows there's enough in this city to lighten your wallet—it doesn't always have to be food! (Which is of course not to say you shouldn't splurge on at least one meal at, say, Gramercy Tavern or Per Se.) In the first entry of what I intend to be a series, I begin with the East Village, your best bet in Manhattan for low-priced, mostly ethnic fare—making this either an easy task for me, considering the 'hood is filled with some of the city's best cheap eats, or a rather difficult one, given the many, many choices.
In no particular order, here are a few of my favorites: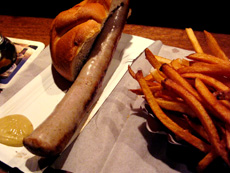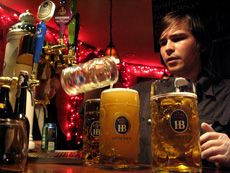 Wechsler's Currywurst & Bratwurst (120 First Ave., betw. 7th St. & St. Marks Pl.): I am a big fan of the bratwurst ($6, pictured) here, served simply with a hunk of bread and a dab of hot mustard on a small cardboard plate to evoke the sausage's delivery on the streets of Berlin. Others swear by the sauce-smothered currywurst; whichever way you go, get the delicious fries ($2) too. Tying with the sausages for biggest draw here, however, are the excellent German beers on tap and in bottles, served in all manner of impressive-sized glasses—like the deliciously smooth (and strong!) Aventinus wheat doppelbock ($8).
Ippudo NY (65 Fourth Ave, nr. 10th St.): The East Village is ground zero for the gourmet-ramen obsession that's swept Manhattan, and Ippudo NY gets top honors for being the first U.S. branch of the Japanese Ippudo chain—try the pork-rich Shiromaru Hakata Classic ($13). However, its popularity and no-reservations policy mean long waits for a table. Much easier to get in and out of is the informal Ramen Setagaya (141 First Ave., betw. St. Marks Pl. & 9th St.), where the ramen's a few bucks cheaper, if a tad less complex.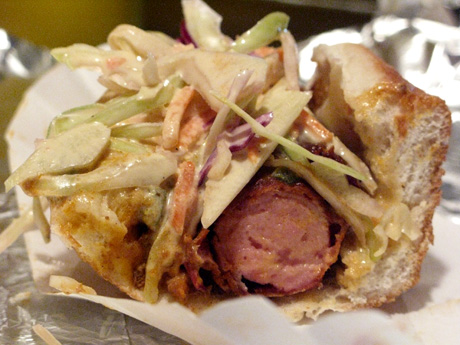 Crif Dogs (113 St. Marks Pl., betw. First Ave. & Ave. A): Admittedly, I only patronize this place late at night, after more than a few drinks. But that's also when this place is jumping. Push your way past the drunk hipsters playing Ms. Pac-Man and order the infamous Spicy Redneck ($4.75, pictured), a deep-fried hot dog wrapped in bacon, topped with chili, coleslaw, and jalapeños; or, less absurdly caloric, a classic Crif Dog ($2.75) with your choice of toppings. Bonus: "Secret" speakeasy PDT is accessed through the phone booth in Crif Dogs, though reservations are often needed—and one cocktail there shatters the whole "cheap" thing.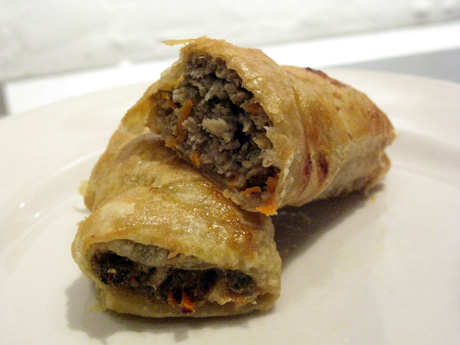 Tuck Shop (68 E. 1st. St. nr. First Ave. and 115 St. Marks Pl., betw. First Ave. & Ave. A): Two doors down from Crif Dogs is the newest branch of Tuck Shop, another carnivores' favorite, dealing in Australian meat pies. Of the handmade, all-natural, baked pies on offer, look for the Guinness steak and mushroom pie ($6) or the Thai green chook (chicken) curry pie ($5), but really just eat whatever's coming out of the oven. I occasionally dream about the pastry-wrapped pork-and-sage sausage roll ($3, pictured)—get one of those too, and chase it all down with an Aussie beer like James Boag's ($5; currently only available at E. 1st St. location).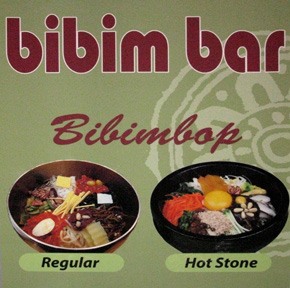 BiBim-Bar (141 First Ave., betw. St. Marks Pl. & 9th St.; 212-529-2746): This under-the-radar spot, hidden behind Ramen Setagaya, is dedicated to Korea's simple, satisfying rice-and-veggie bowls: bibimbop. There are nearly always tables available, making it great for groups and lingerers. The bibimbop is quite good, filling, and well-priced, ranging from $7.95 to $10.95. I love the spicy octopus "regular" variety, while friends tout the hot stone bowls (which I've found to burn my rice too much, though they do cook the raw egg better).
Nino's Pizza (131 St. Marks Pl., at Ave. A; 212-979-8688): My husband calls Nino's large, generously greasy slices "change-your-life pizza"…and they are, at least of the late-night variety. You see, Nino's is open till 6 a.m. on weekends, and is positioned just so as to be in the heart of the East Village and its legions of bars. Indeed, many a good night ends with a $2 slice of Nino's. Be sure to order it plain and get it hot from the oven. Note: The extra-hungry and thrifty might also consider joining the NYU students at Crocodile Lounge (325 E. 14th St., nr. First Ave.; 212-477-7747), which offers free personal-size thin-crust pizzas with the purchase of a beer ($5-$6). Not life-changing, but gratis (face it, you were going to drink that beer anyway).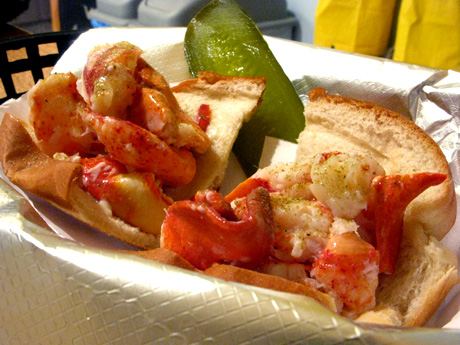 Luke's Lobster Roll (93 E. 7th St., betw. First Ave. & Ave. A): A newfound favorite of mine, buoy-festooned Luke's opened this fall to bring a real lobster shack to New Yorkers, and to support a troubled industry: It's owned by a former lobsterman from Maine who, with his father, works directly with the right guys up north to swiftly transport their (sustainably managed) fresh catches to the East Village. I am no lobster roll expert and have never stepped foot in Maine, but Luke's rolls are divine: Nothing but fresh, succulent hunks of sweet lobster meat (knuckles and claws), dusted with spices and heaped atop a simple, lightly buttered and mayo-brushed roll ($14 for full roll; $8 for half). Try it with a handcrafted, organically sweetened pumpkin pie soda from Maine Root.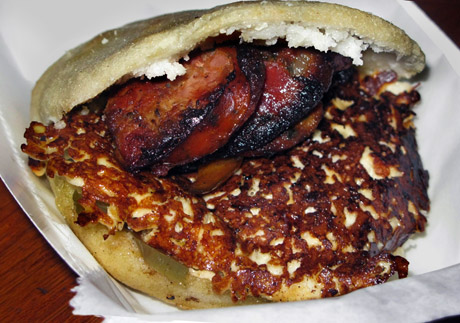 Caracas Arepa Bar (93 ½ E. 7th St., betw. First Ave. & Ave. A): While I'm personally partial to Colombia's simpler, cornier arepas (more on that when I cover Queens), the Venezuelan-style arepas ($4.75-$7.25) sold in this teeny restaurant (be prepared to wait) are pretty satisfying. Here it's less about the arepa and more about the fillings: chunky chicken, avocado, shredded beef, sweet plantains, white salty cheese, chorizo (pictured). Order one with a mangua (mango + guava) juice, and make good use of the sweet hot sauce.
Veselka (144 Second Ave., at E. 9th St.): This down-home Ukrainian diner is ideal for brunch or middle-of-the-night munchies: It's open 24 hours, because you never know when the urge for sour cream-dipped pierogies, crispy potato pancakes, or kielbasa might strike. I'm a fan of their chilled borscht ($4.50 a bowl) and boiled or fried pierogies—either plain ol' potato ($9.50 for 7) or the less traditional arugula and goat cheese ($9.95). Established in 1954, this carbohydrate wonderland has the benefit of spacious (including sidewalk) seating, unlike the newer crop of East Village holes-in-the-wall.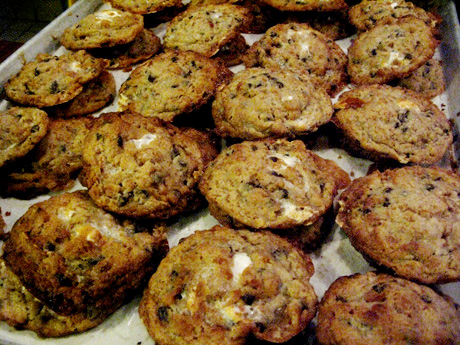 Momofuku Milk Bar (207 Second Ave., at 13th St.): The sweet little sister of the Momofuku empire is all about buttery, creative desserts—crack pie! cereal milk-flavored soft serve! cornflake-and-marshmallow cookies! (pictured)—however it sells one deliciously indulgent Asian-inspired savory treat: the pork & egg bun ($9), an incredible mess of soft pork belly, deep-fried soft-poached egg, cucumber, sweet hoisin sauce, and scallions stuffed into a large, pillowy bun. It's a breakfast riff on Momofuku's addictive pork bun, which is also sold here (2 for $9). No need to get this one for breakfast, of course, though your arteries might well want the day to recover (available till 5 p.m. only, as I learned when I went to photograph it).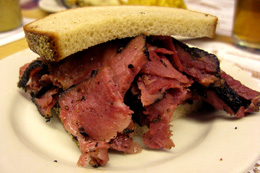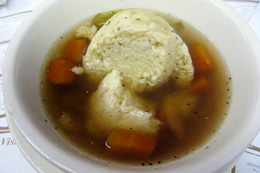 Katz's Delicatessen (205 E. Houston St. at Ludlow St.): It's technically on the Lower East Side, it's not really that cheap, and it's been covered on this site before, but I'm including it anyway. It took me way too long to eat the pastrami sandwich on rye ($14.95) at Katz's—don't make the same mistake! This sandwich is so simple—just meat piled between two thin slices of bread—but the meat! Katz's hand-carved pastrami is mouth-melting, juicy perfection. You don't need anything else, although the matzo ball soup ($5.85) is also pretty darn good.