In a New York minute
Posted by Helen Fernandes on Sunday, January 23rd, 2011
Tags for this Article: bagel, Brooklyn, cabbage, cabbage soup, chocolate, cream cheese, East Village, Ed's Lobster Bar, French fries, Gaspe Nova, hot chocolate, Jacques Torres, lobster, New York, pierogi, Russ and Daughters, sauerkraut, smoked fish, Soho, Ukrainian, Veselka
On a recent quick visit to New York my husband and I were on a quest to eat as much as possible in the short time we were there. Here are a few of our favorites.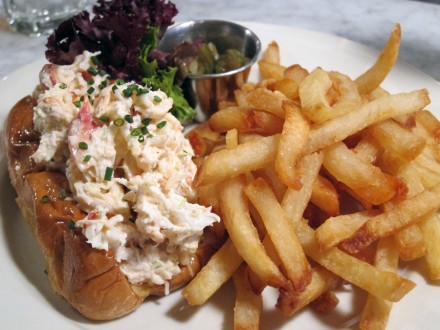 Ed's Lobster Bar in SOHO was the first place we went to soon after we landed in New York. We went to try the lobster roll we had heard so much about and we were not disappointed! Far from Maine, but, nonetheless fresh and flavorful, Ed's lobster roll is made with beautiful, firm chunks of fresh Maine lobster mixed with a little mayonnaise, celery, fresh squeezed lemon juice, chopped chives and a touch of salt and pepper, all served on a simple hot dog bun. The roll comes with a small side of pickle slices in vinegar and perfectly crisp, crunchy french fries. This remains one of our favorite meals.
Russ and Daughters on the Lower East Side is a New York institution. Family run for four generations and serves only the highest quality smoked fish and specialty goods since 1914; we went to try their Gaspe Nova smoked salmon. Having grown up with a father who sold fish most of his life and having ate some of the very best, I was not disappointed. Thinly sliced and piled high on top of your choice of bagel (mine was sesame so not to detract from the fish) with plain cream cheese and sliced onions it was a meal in it's own and highly recommended for your next visit.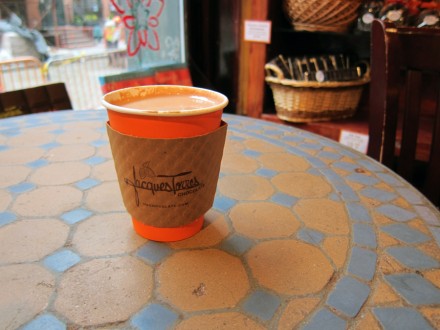 Jacques Torres Chocolate in Dumbo, Brooklyn, is a unique chocolate bar serving all types of chocolates  that are made on the premises. Recommended by fellow foodist Laura Siciliano – Rosen, we went to try their hot chocolate. Being that it was a very cold day in NY the hot chocolate was a welcomed treat. Heavy, thick and velvety smooth, it was like drinking a cup of melted chocolate. Delicious!
Much has been said about Veselka already that there is little more to add…but I'll try.  In the heart of the East Village, delicious traditional Ukrainian comfort food is served up around the clock, seven days a week in an old school diner atmosphere. Family run for over 50 years and well known for their pierogis, blintzes, stuffed cabbage rolls and Ukrainian borscht, my favorite is the cabbage soup. Made with sauerkraut and its juice, shredded cabbage, pork, carrots and spices, this sweet and sour soup hits the spot every time. No trip to New York is complete without a visit to Veselka.