House of Dosa
Posted by Matt SamyciaWood on Sunday, December 13th, 2009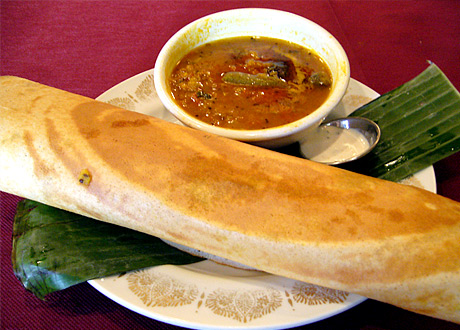 I grew up eating my fair share of Indian food. Not just any Indian food, but GREAT Indian food. Many Indian people actually say that curries in the UK are often better than those they have eaten in India.
That being said, it wasn't until visiting the House of Dosa in Vancouver that I discovered there is a difference between Northern Indian Food and Southern Indian cuisine.
The curry I grew up and the one most people think of as curry, is from North India. House of Dosa serves up food from Southern India.
A dosa is like a large pancake rolled up with curry placed in the middle. Have I mentioned yet that they are amazing.
Monday is Dosa special at only $5.99.
The interior and customer service is simple but delightful.
The food aside I like the owner. He is a huge cricket fan. He will often open the restaurant at 3am so he and anyone who would like to join him can gather and watch the cricket game live via satellite. I love this passion and inclusion, they are great qualities.
Whether you go there for the food or the cricket, just go there, you won't be disappointed.
Their website is not great, but the food is.