Atithi's Bengali Cuisine
Posted by Degan Walters on Monday, February 14th, 2011
Tags for this Article: bengali, curry, Ethnic, indian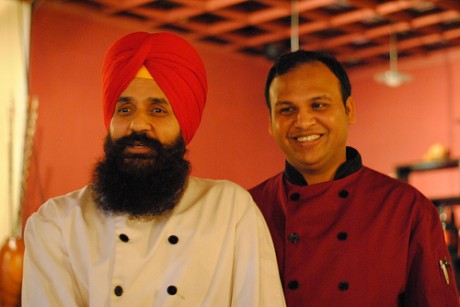 Atithi celebrated their 2nd anniversary this week with a special Bengali dinner this week. Their regular menu is more Southern Indian although they often offer Bengali dishes on their fresh sheet.
Due to it's location in North Eastern India, Bengal cuisine has been influenced by different cultures and landscapes; the sea and the Ganges river mean a lot of fish and access to arable land mean goat meat, chicken and milk (the prime ingredient in dessert).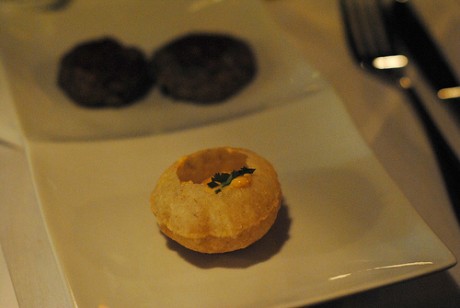 We started off with Kingfisher beers and a spicy, smoky lassi like I'd not had before – somewhere past a salt lassi, it was roasted curry leaves with a bit of jalapeno and cumin in it. Chef Roy told us it was typically drank in the heat of the afternoon and I could see how the thick, cool drink would be refreshing but then the food started to arrive; pappadum served with tamarind chutney and green curry sauce, banana blossom cutlets with masala mayonnaise and Calcutta khati roll stuffed with paneer and cucumbers.
It was not like any Indian food I'd had before and I was loving it, although I didn't realize until too late that the pocket of mayo was designed to go with the spicy patties of banana blossoms.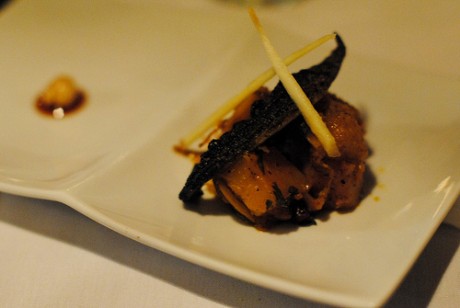 This was followed by four separate entree samples, the "salty" part of the meal, Chef Roy told us, versus the sweet dessert. The first had spice, sweetness and bitterness as well – bitter gourd with sweet squash and dhal peas with slivers of chili-rubbed ginger. The textures of this dish were very interesting and having a sole tamarind-soaked chickpea opposite was some very elegant plating.
Mahi mahi in mustard curry, chicken in yogurt with lentil cake and goat curry with mashed taro roots were all sophisticated curries, nicely spiced but paired with thoughtful garnishes and sides. The flat bread that accompanied the goat, for instance was baked with cardamom that added to the depth of flavour.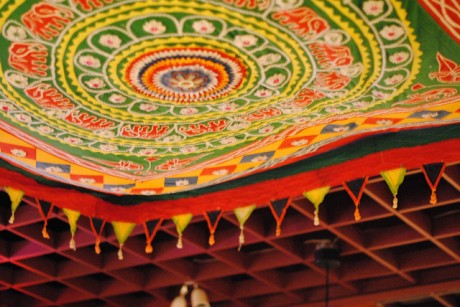 By the time dessert came, most of us were groaning so it was thankfully lights – a deliciously creamy mango mousse with a cheese patty sunk inside accompanied by a cardamom creme brûlée chocolate from Xoxolat next door.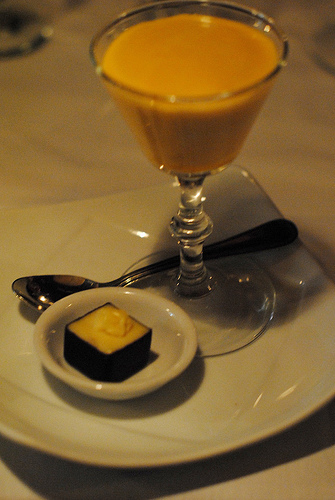 Atithi is up at Burrard and Broadway, so they get very little street traffic and yet they were almost full on a Monday night. It seems that their dedication to their guests (Atithi means "honored guest") and flavourful food has served them well as they celebrate their 2nd anniversary. I'll be back to check out their regular menu soon but I hope they update their menu with some more of their special Bengali dishes.