Dear Gruyere – I think I love you
Posted by Erin Mussolum on Thursday, January 7th, 2010
Tags for this Article: cheese, Gruyere, potatoes, yams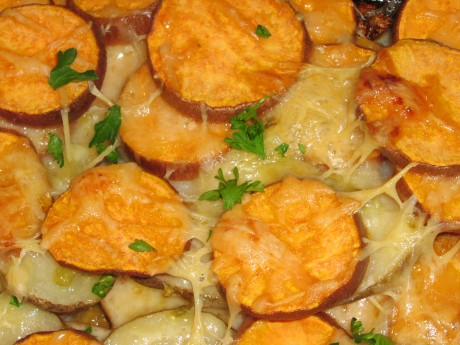 Tonight I had a wonderful date with a block of Gruyere.  It was romantic yet rustic, gourmet yet approachable, subtle yet incredibly sexy.
I had forgotten that I purchased a block of this sweet and nutty delight before Christmas, and after commencing a purge of the "I should really not eat this because I will get even fatter after the holidays" contents of my fridge, there nestled in beside the Gorgonzola and Asiago lay its little self – my cave aged Gruyere.
Giddily I began recalling some fabulous recipes where Gruyere showed up and played centre stage.  I decided to embark upon what I like to call "Gruyere – I think I love you", okay bad title I know, but "kick my ass in potato bake" sounded so trailer park. This dish is so dumb easy yet tastes like the payoffs of a expensive ivy league degree and stars a simple set of ingredients – five to be exact:  potatoes, yams, Swiss chard, garlic, and of course lots of Gruyere.
Here's the lo-down.
In a fry pan sauté a bunch of Swiss chard with a clove or two of minced garlic until the leafy greens have wilted.  Set aside.
Meanwhile get yourself a lasagna pan and then thinly slice enough yams and potatoes to arrange in about two level layers each. You'll have a nice collection of colourful circles on your counter.
Grate a hunk of Gruyere and set aside.
Now comes the fun assembly bit.
Layer the pan with potato slices and then sprinkle the Swiss chard mixture overtop of the potatoes. Now layer the yams on top of the Swiss chard and finish the last layer with a nice helping of grated Gruyere. The more cheese the better. Add a little salt and pepper and repeat!  Or for those that need some clarity…
Layer 1: potatoes
Layer 2: Swiss chard mixture
Layer 3: yams
Layer 4: Gruyere plus salt and pepper – the more cheese the better.
Do this until you have no more ingredients left. Pop the pan in the oven at 400 degrees for about 30 – 40 minutes or until the top layer of the Gruyere is melted and presto! Amaze your friends. Amaze a date. Amaze yourself.
This is a great side dish or as meatless man…oops I mean main.