Potato crack
Posted by Jules Morgan on Monday, January 4th, 2010
Tags for this Article: potato, potato crack, potatoes, side dish, Vegetarian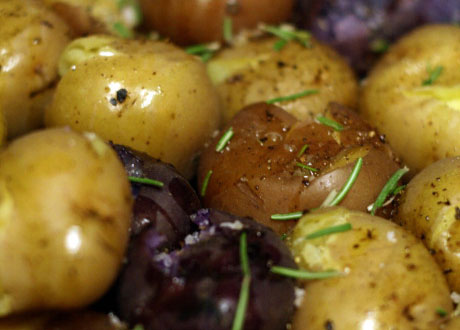 Potatoes are one of those foods that somehow make me feel just a little guilty, mashed, baked, roasted, gnocci'ed, it doesn't really matter. Like pasta, the sheer pleasure of consuming whatever varietal of pomme de terre sitting on a plate, begging to be eaten, will always ignite a sinful shiver.
Potato crack is one such pleasure, fleshy potatoes glistening with olive oil and the tang of rosemary and sea salt on your tongue.  This dish has graced my dinner table more times than I can count; here then is the tried and true recipe.
Enjoy!
Small potatoes*
Good quality olive oil (I use Amelia oil)
Sea salt
Cracked black pepper
A few sprigs of fresh rosemary, roughly chopped
*I tend to use fingerling or small new potatoes as they tend to roast better, if the farmers' market has a number of different varietals of smaller potatoes, I'll add some of those in as well.
Preheat oven to 375 degrees.
Parboil the potatoes until they are just tender. (My former mother in law, a formidable woman of Cockney descent who baked a Sunday roast every week, was adamant that par boiling was key to a crispy potato. I was not one to argue.) Arrange the potatoes in a roasting dish and 'smash' each one with a fork.  Sprinkle generously with olive oil, sea salt, cracked black pepper and the rosemary, ensuring each is covered.
Roast the potatoes until they are brown and crispy.
Eat.
Enjoy.